Budget: CBI urges 'relentless focus on growth'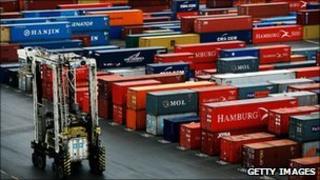 The CBI is lobbying the chancellor to get the UK working by showing a "relentless focus on growth" in the forthcoming Budget.
In a letter to George Osborne, the employers' organisation calls on the government to produce an "all-action" Budget on 23 March.
It wants a focus on boosting export performance, investment spending and the removal of barriers for high-growth firms.
The CBI also wants changes to taxation.
The business group has been critical of the 50p top rate of income tax and, while it accepts that the government will not lower it in this year's Budget, it ultimately wants to see a reduction in the top rate by the end of the current parliament.
All-action
"Our message is every single thing [the government does] must focus on growth and, at the moment, they're trying to do other things that sometimes get in the way of that agenda," the CBI's director general, John Cridland, told the BBC.
"They've yet to prove themselves, we're working with them and I hope they will."
He added: "This Budget must demonstrate a relentless focus on growth to help get the UK working again. We need an all-action Budget which boosts exports, investment and jobs."
The employers' organisation also says it wants to see a Mittelstand of businesses - like Germany's famously efficient family owned mid-sized companies - thrive in the UK.
"The Budget should create the framework for a Mittelstand of mid-cap businesses by ensuring they can access the capital they need to expand at home and abroad," Mr Cridland said.
The group also wants changes to employment laws, including doubling the time after which an employee can sue for wrongful dismissal from one to two years to give companies more time to assess the potential of a new employee.
Meanwhile, the manufacturers' association, the EEF, says that recruitment and investment plans among manufacturers are at record levels as the sector maintains strong growth.
The EEF's survey of more than 500 firms showed that exports were behind "strong" orders, but the group also warned of price increases among manufacturers, driven in part by the rising cost of raw materials.
'Pro-growth'
On Sunday, Prime Minister David Cameron told the Conservative Party's spring conference that backing the UK's entrepreneurs was the "only strategy" for growth.
And he said that this year's Budget would be the "most pro-growth this country has seen for a generation".
Separately, the Department for Business, Innovation and Skills (BIS) said on Monday that it would give business £50m a year through the Growth and Innovation Fund to help overcome skills shortages that block expansion.
BIS said it hopes the money will be matched by £50m coming from business itself.