Ireland's incoming government to stick to deficit plan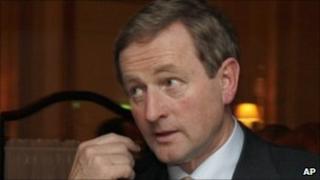 The Republic of Ireland's new government will stick to its predecessor's budget targets as set out at the time of its 85bn euro (£73bn, $119bn) EU/IMF rescue package.
But the country's incoming prime minister, Enda Kenny, has also reiterated he wants to renegotiate the strict terms attached.
Mr Kenny is under pressure to seek lower interest repayments.
He also wants more time to restructure the country's weakened banks.
The election, which resulted in a coalition agreement between Mr Kenny's centre-right Fine Gael party and the centre-left Labour party, was marked by some openly anti-EU comments.
The Labour Party had wanted an extra year to get Ireland's budget deficit under control, but Fine Gael persuaded it to drop that demand.
Brendan Howlin, one of the chief negotiators for the Labour party, told the state broadcaster RTE that it was time to work with the EU: "We have to repair broken bridges across our European partner to build up an understanding of our position.
"It is in everybody's interest, not only the national interest of Ireland, but in Europe's interest and in the interests of the maintenance of the euro that we have a path that is sustainable out of the economic hole that we find ourselves now in."
The new government plans to reduce the deficit of nearly 12% of gross domestic product to below the EU's limit of 3% by 2015.
It is creating a new cabinet position to deal with public spending and public sector reform.
Mr Kenny met some of his European partners last week in Helsinki when he was warned there would be "no free lunches".
He will meet his fellow eurozone leaders at a summit on 11 March, and face a wider group of European Union leaders on 24 March.