Government to give business £50m to boost skills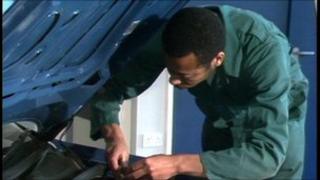 The government says it will give business £50m a year to help it overcome skills shortages that block expansion.
The money will come from the Department for Business, Innovation and Skills (BIS), which it hopes will be matched by another £50m from business itself.
It will be distributed through the Growth and Innovation Fund (GIF).
BIS said the funding could be used to enable industries to set new professional standards.
It pointed to the car servicing industry as an example of how the fund could improve standards.
The poor standard of car servicing and repairs five years ago threatened to spark a "Super Complaint" to the Office of Fair Trading (OFT).
The motor industry knew that if it did not act, the government would step in and regulate, so it developed accreditation for its thousands of technicians.
The business secretary, Vince Cable, told the BBC: "We've already made a big commitment to apprenticeships, for example. Despite the cuts we have had to make in the budget generally, we have set aside enough money for an additional 75,000 apprenticeships in the country.
"This is a step beyond that. It's a way of helping companies who want to establish, for example, a skills academy to create the specialist skills; we've had one for the railways and if you are going to launch energy conservation schemes, of the kind we do, you've got to have people trained in plumbing and the related skills."
Shadow business secretary John Denham said that while investment in skills was welcome, "this hardly shows the ambition or intention needed to close the gap with our competitors".