QPR in talks with potential buyer for club stake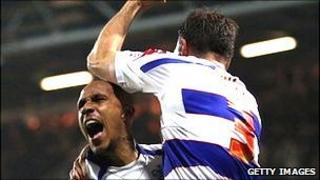 Queens Park Rangers says it is in talks with a potential buyer for a majority stake in the club.
In a statement, the club said it had entered into "preliminary discussions" with a view to a 67% sale of QPR Holdings Limited.
However, it said that the talks "may or may not result in an offer being made" for the west London club.
It comes as it was revealed this week that QPR Holdings lost £13.7m in the year to 31 May 2010.
Top flight
The accounts also showed that group turnover, and average matchday revenues were down during the 2009-10 period on the previous year.
As a result the club said it was now continuing to "look to reduce costs across all areas of the business in order to improve the group's loss-making position".
In the accounts vice-chairman Amit Bhatia states: "As the club's owners have emphasised previously, the key measure of the club's success is on-pitch performance, and a critical driver of any club's value is presence in the Premier League, which is the stated aim of the current ownership."
At present the team are top of the Championship and appear to have an excellent chance of returning to the top flight.
'Passionate'
On Friday, Mr Bhatia, who joined the board three years ago, reiterated the Premier League ambitions, and said his family was not selling its shares in the club.
Mr Bhatia is the son-in-law of one of the world's richest men, Indian tycoon Lakshmi Mittal.
"The club has today confirmed that it has entered into preliminary discussions relating to a potential sale of shares in QPR Holdings Ltd," said Mr Bhatia.
"My family and I would like to make clear that we are not part of these negotiations to sell our shares.
"We remain passionate about QPR and are working to achieve our immediate goal of providing Premier League football to our loyal supporters next season."
The club has also emphasised that the talks are at an early stage, and that there is no certainty that an offer for the shares will be forthcoming.