Pakistan government bows to pressure over fuel price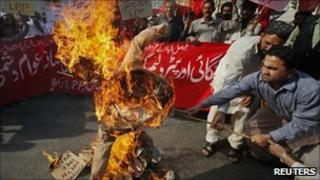 The Pakistani government has caved in to public anger and a coalition party ultimatum by halving a fuel price rise.
The 9.9% increase announced only on Tuesday has now been cut to 5%.
The Muttahida Quami Movement (MQM) - which gave a three-day deadline to overturn the decision - has now rejoined the governing coalition.
However, the U-turn will unwelcome at the International Monetary Fund, who called for the price rise to help reduce the government's budget deficit.
The MQM - on whom the government depends for its majority in parliament - had threatened "suitable action" if the Oil and Gas Regulatory Authority (Ogra) did not cancel the announced price rise.
Costly decision
Ogra had said that the latest rise was necessary because of instability in North Africa and the Middle East.
The price of petrol has risen by 7.23 rupees (8.5 US cents; £0.05) per litre to 80.19 rupees, while the price of diesel has risen by 7.90 rupees to over 85.65 rupees a litre.
Although international petrol prices have risen by 23.4% since November 2010, Pakistan has only proposed an increase of 9.9%, according to Ogra spokesman Syed Jawad Naseem.
Speaking before the government's change of heart, he said that the government had paid out as much as 13bn rupees ($153m; £93m) in oil subsidies because of its failure to increase oil prices over the last three months.
Friday's decision to halve the price rise will cost the government an estimated further 9bn rupees per month.