Eurotunnel reports 57m euro loss on insurance dispute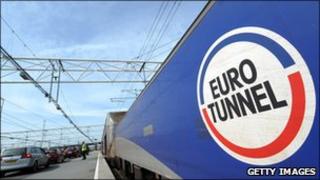 Rail operator Eurotunnel has reported a 57m euro ($79m; £48m) loss compared with a net profit of 7m euros a year earlier.
Eurotunnel said the loss was due to a dispute with insurers over payments arising from a fire in the Channel Tunnel in September 2008.
The firm also said the cost of servicing its debts had increased by more than 25% to 248m euros in 2010.
However, it forecast freight traffic to increase by 4% to 5% this year.
The firm also said it expected a 3% increase in passenger traffic through the tunnel in 2011.
"As announced previously, the delay in payment of the insurance indemnities has impacted heavily on our net result but the group is working to rectify this situation," said chief executive Jacques Gounon.
New routes
Eurotunnel said it saw a 3% growth in customers numbers for its passenger rail service Eurostar, to more than 9.5 million in 2010.
The firm said truck shuttle traffic increased by 42% compared with 2009.
However, it said the number of trucks transported was still below 2007 levels, reflecting the slow economic recovery.
Eurotunnel is looking at an expansion in its traditional routes, with Eurostar looking into launching new services to Amsterdam, the south east of France and Switzerland.
German national railway company Deutsche Bahn is also looking to run direct services between London and major cities in Germany and Holland.
Eurotunnel estimates such new routes could represent a market of between 3 million and 4 million passengers per year.
The operator also noted the "serious possibility" that the current high price of oil may persist for several months.
It said this could potentially give Eurotunnel's electrically-powered rail services an advantage over competitors - with operators in the airline and shipping sectors already having announced fuel surcharges on their transport costs.