Volvo looks to redefined luxury and Scandinavian design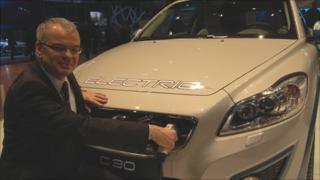 Free from any interference from former parent company Ford and backed by a multi-billion dollar investment programme, Volvo Car Corporation's chief executive Stefan Jacoby is ready to re-invent the Swedish brand.
Scandinavian design and a new definition of luxury motoring are central to his plan as he prepares to halt efforts to compete with German luxury brands Audi, BMW and Mercedes on their terms.
"If we copy them, we can never beat them. We will always be second or third," Mr Jacoby tells BBC News at the Geneva motor show.
"So we'll have to find our own way. We want to be different and find our own interpretation of luxury."
Luxury re-defined
The result could add a new dimension to the luxury car segment as Volvo aims to develop cars that offer functional, elegant minimalism that appeals to customers' beliefs and lifestyles.
"There will be more intelligent choices by customers," Mr Jacoby says.
"Horse power and cylinders by themselves are no longer the main measurement for luxury."
"I don't want to take away the joy of driving. I don't want to take away performance, but I do want the cars to be designed around people."
Instead, "the future of luxury motoring" is all about low CO2 emissions and "environmental responsibility", combined with good functionality inside the cabin, he reasons.
"To have a machine that's easy to control, like an iPad or an iPhone, is luxury these days," Mr Jacoby says.
"It saves you the headache of reading complex manuals."
Massive investment
Such talk might have come across as vague, except Mr Jacoby's plan is backed by a whopping $11bn investment programme over the next five years.
The investment far exceeds the $1.8bn price the Chinese carmaker Geely paid for Volvo when Ford sold the marque last spring.
"We are now writing an all new chapter in the history of an all new Volvo," Mr Jacoby says, distancing the brand from the past when "what was produced were compromises, not designs that were truly Scandinavian".
Electric motoring will also play a major part in Volvo's future model range, with early hints at what to expect on display at the stand in Geneva.
For instance, the V60 plug-in petrol-electric hybrid concept car showcases technologies that "we are looking to spread out the technology into other models".
"With our intention to be more distinguished, we will do more elements of technology ourselves," Mr Jacoby says.
Growth in China
Much of the work will be done in China, where Volvo is developing both research and development capabilities as well as a manufacturing plant in Shanghai that should be up and running in a year or two.
"We are focusing on our industrial footprint in China," Mr Jacoby, though he hastens to add that "this is add-on capacity due to the demand we have in China", rather than a shift away from Europe where it is expanding as well.
Volvo sales in China should reach 200,000 cars per year by 2015, he predicts, and by 2020 its global sales should top 800,000 cars per year.
Ian Fletcher, analyst with IHS Automotive, said that demand remained "strong" for premium vehicles in China.
"Investment in a plant there is important for Volvo's shift away from Ford as it moves to gain control of its own destiny," he said.
Other analysts believe Mr Jacoby is well suited to the task ahead, not least since he used to work in China where he oversaw the expansion of Volkswagen Group's joint ventures with Chinese firms.
Nevertheless, Mr Jacoby is also eager to stress that following the sale by Ford, Volvo has become an independent carmaker.
"We have no intention of mixing up Geely and Volvo," he stresses.
"These are two stand-alone auto makers with limited possibilities for synergies, so we are on our own."