Should the world be afraid of China's economic power?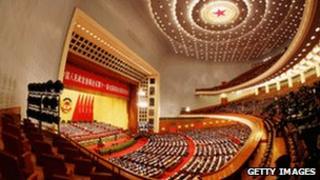 China's National People's Congress is about to get under way.
One of its key priorities will be mapping out the next five-year economic plan.
It will be just a plan, but how it works out in reality will be vital for China, and for the rest of us.
The key questions for the world are how much will China grow and who will buy its goods - foreigners or Chinese consumers?
We have had a few tasters of what to expect from the Premier, Wen Jiabao.
He suggests a growth target of 7% a year.
That would be a substantial slowdown compared with the last three decades which have averaged 10%.
Urbanisation
There are some good reasons for supposing that sooner or later China's growth must ease off a bit.
One key factor behind the stunning performance of recent decades has been an increasing number of people working in industry and services.
They have moved from rural areas in vast numbers in search of higher incomes in the cities.
Capital Economics of London reckons the workforce is likely to peak during the next five years. And the flow from rural areas is likely to slow as that pool of surplus workers shrinks.
It is worth emphasising that a target of 7% growth does not mean that China will inevitably slow to that sort of rate.
But should the world be worried if it does turn out like that?
The answer is a bit of a mixed bag.
Export power
China is well known, indeed feared by some, as an exporter.
But it also has a vast appetite for imports. It gets coal and iron ore from Australia, oil and metals from Africa and the Middle East.
To take one striking example, China is the biggest export market for Angola, an oil producer. It is also the biggest market for Japan and South Korea.
Economic growth of 7% would still mean plenty of extra demand for imports. But it would mean those new opportunities would grow more slowly.
And we are looking ahead to a five-year period when the strength of the recovery in the rich countries is uncertain.
Catastrophe was avoided in the financial crisis, but a period of relatively subdued performance is possible, as consumers and governments tackle their debt problems.
China could help fill the gap if the rich world doesn't get stronger.
Cheaper markets?
One potential area where slower Chinese growth would be make an impact is commodity prices.
China is not going to need less oil and raw materials. The International Agency, a watchdog for the rich countries, estimates that China will account for almost half the increase in the global demand for oil.
But slower economic growth would moderate the impact on the price of oil and other commodities.
It also matters to the world who will buy all this stuff that China produces.
The criticism that China is too dependent on exports comes up again and again in international economic fora.
Incomes are rising in China and that will help Chinese consumers buy more of their own products and more imports too.
It would be welcomed outside China if the five year plan encourages more consumer spending.
Money moves
What China's critics would really like is movement on the controversial currency policy, in particular a commitment to let the Yuan rise and reduce the competitive advantage it gives Chinese industry.
China is committed to a more flexible currency policy, but when it's ready.
The People's Congress will be worth watching to see if there are any hints of change on that but do not hold your breath.