Microcredit in focus amid moves to oust Grameen's Yunus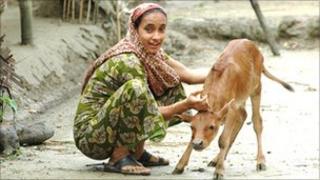 The move to oust Professor Muhammad Yunus from the board of Grameen Bank is the latest in a line of criticisms aimed at him as an individual and the microcredit system he pioneered.
The Bangladesh central bank says he is past retirement age and was improperly installed in his post.
Prof Yunus said on Thursday that he wanted a "graceful exit" and has started a legal challenge to his sacking from Grameen.
Recently, there were allegations that aid money had been wrongly transferred from one part of the Grameen organisation to another in the 1990s.
The bank denied those charges and the Norwegian government, one of the bank's main donors, exonerated Prof Yunus and his Grameen Group.
Commentators say the efforts to remove Prof Yunus are politically motivated, and it may end up causing an unsettling effect on microfinance institutions around the world.
Dubious practices
In recent months, the microcredit industry has come in for heavy criticism.
Critics were sceptical about a report published in January by the US-based Microcredit Summit Campaign, which said that the work of Grameen and others had helped 10 million families to raise their income above the UN-recognised poverty level of $1.25 a day.
It has been alleged that borrowers have taken on multiple loans and too much debt in the face of coercive collection practices by some microfinance staff.
Some borrowers unable to meet their payments have even been driven to suicide, reports say.
Last year, India's multi-billion dollar microfinance industry was rocked by allegations of aggressive lending and heavy-handed loan collections in the state of Andrah Pradesh.
For a while, it seemed as if many companies were on the brink of a mass default until major banks agreed to continue lending to microfinance firms.
In Bangladesh, the government has imposed a limit on the amount of interest which can be demanded on a microcredit loan - some of which can be as small as $20.
Problems
Troubles with microcredit began around 2005, when many lenders started looking for ways to make a profit on the loans by shifting from their status as non-profit organisations to commercial enterprises.
In 2007, a Mexican bank called Compartamos became Latin America's first microcredit bank to go public, and SKS Microfinance, the largest bank of its kind in India, raised $358m (£220m) in an initial public offering.
Prof Yunus says the commercial enterprises with excessive interest rates should not be allowed to call themselves microcredit institutions at all.
"I founded Grameen Bank in 1983 to provide small loans that people, especially poor women, could use to bring themselves out of poverty," he told the BBC in an interview before the recent problems arose.
"At that time, I never imagined that one day, microcredit would give rise to its own breed of loan sharks," he adds.
Original model
The basis for the Grameen Bank's successful microcredit model lies in a number of key characteristics.
Most local branches are self-funded by deposits of their local members in taka, the Bangladesh national currency
By serving as a depository for its members, Grameen Bank allows the poor to build their own financial asset base
The bank extends loans to its members at a maximum interest rate of 20%, a fraction of what many other microfinance organisations charge
Operating on a co-operative model, profits are redistributed to the Grameen Bank's owner-members or are invested in community projects.
Prof Yunus says that these features root the Grameen Bank in the community it serves and keep money, including interest payments, continuously circulating locally.
Microcredit programs seeking to replicate the Grameen model have spread rapidly across the globe.
Most, however, replicate only the loan feature. Few provide the defining features which Grameen Bank says are central to a commitment to building wealth in the community.
Alex Counts of Grameen Bank says that Grameen's success has managed to change Bangladesh.
"Bangladesh is not the 'bottomless basket case' that then US Secretary of State Henry Kissinger called it 35 years ago," he explains.
"It is instead, a teacher to the rest of the world."
Winners and losers
Despite the optimism of the microfinance industry about the impact it can have, there are serious questions being raised about its real reach.
One social experiment focused on an Indian state where 50 districts had access to microcredit and a further 50 had no access to such finances.
The study showed that within those districts with access to microcredit, there was no substantial impact on poverty.
There is also the question of new enterprises displacing others in the vicinity.
"New enterprises are often too marginal to compete with each other, so where one opens, another has to shut," Alun Doran at Oxfam explains.
Mr Doran also says that the centre of gravity for poverty reduction has been moving away from microcredit to credit for small and medium-sized enterprises (SMEs).
"With SMEs there is the prospect of employing 20-30 people, and that builds social capital as people earn disposable income which subsequently helps another business," he says.
"Overall, that has a longer-lasting effect on poverty reduction."
He maintains that Grameen and Brac, another leading microcredit lender in Bangladesh, do many good things.
But he adds: "Microfinance is all too often looked upon as a panacea to cure poverty - and that it is not."