China says it will boost its defence budget in 2011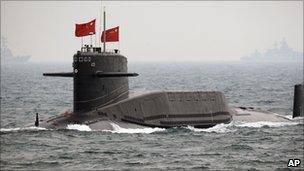 China is to increase its defence budget in 2011, amid fears in the region that its military might is growing.
Spending will increase by 12.7% to 601.1bn yuan ($91.5bn; £56.2bn) up from 532.1bn yuan last year, officials said.
Many analysts say China's actual spending on defence is far higher than the government reports.
The announcement comes a day ahead of the annual National People's Congress, at which the Communist Party will outline its five-year plan.
China has been building up its military in recent years; the defence budget was increased by 7.5% in 2010, after double-digit jumps in previous years.
Chinese parliamentary spokesman Li Zhaoxing said the increase was justified, and China posed no threat to anyone.
"China's defence spending is relatively low by world standards," Mr Li said, echoing previous assertions by Beijing that its defence budget was much smaller than that of the US.
"China has always paid attention to restraining defence spending," he added.
However, many observers believe that the real figure spent on defence is much higher.
Beijing insists that its military modernisation programme is entirely peaceful but the latest hike in defence spending to boost the 2.3m-strong People's Liberation Army is likely to further stir regional unease.
China is developing stealth fighters and advanced missile systems, and also plans to launch its first aircraft carrier.
China's neighbours say that Beijing is becoming more assertive as its military develops.
Relations have been strained between China and Japan over disputed islands in the East China Sea, where there are large potential reserves of oil and gas.
On Thursday, Japan said it scrambled jets after two Chinese military aircraft flew close to the disputed chain.
"China's modernisation of its military and increased activity is, along with insufficient transparency, a matter of concern," Yukio Edano, Japan's chief cabinet secretary, said.
China has also laid claim to vast areas of water and mostly uninhabited islands in the South China Sea, angering several South East Asian nations.
On Friday, the Philippines demanded an explanation after it said two Chinese patrol boats threatened to ram one of its ships operating in the area.
Sovereignty in the South China Sea is important, not only because of suspected deposits of oil and gas.
More important is the fisheries industry and the vital issue of freedom for trade through some of the busiest shipping lanes in the world - 80% of China's energy imports pass through these waters.
"There is no two ways about the fact that China's military is getting much more powerful," said Duncan Innes-Kerr of the Economist Intelligence Unit in Beijing.
"Its ability going forward to overwhelm opponents is clearly increasing," he added.
However, analysts say there is a low chance of a military conflict over disputed territories in the region.
"Territorial claims are a secondary concern for China compared to domestic economic growth and stability," said Mr Innes-Kerr.
That focus on the economy is expected to become evident as the National People's Congress begins on Saturday.
While Friday is all about China's growing military power, the annual meeting of policymakers is expected to be much more about China's social and economic development.
The BBC's Beijing correspondent, Martin Patience, says tackling inequality is expected to be a key focus of the new five-year plan.
New social service programmes and spending on education will also be some of the measures likely to be revealed.