South Korea factory output at 17-month high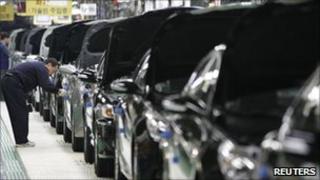 South Korea's industrial output has grown at its fastest pace in 17 months, latest figures show.
Factory output rose by 4.6% in January from the previous month. Compared to the same month last year, output rose by 13.7%, the statistical office said.
Demand for the country's exports has been rising as economic conditions in its biggest markets improve.
However, analysts warned that rising oil prices posed a threat to growth in the future.
"We had expected the South Korean economy to rebound early this year," said Na Jung Hyuk of Daishin Securities.
"However, due to the unexpected turmoil in Libya, output activity could slow," he added.
Overheating concerns
While strong production numbers are good news for the export-dependent economy, they have raised fresh concerns about overheating.
Earlier this week, South Korea reported that exports in February rose more than expected, growing by 17.9% from a year earlier.
Consumer prices also continue to grow at a pace faster than the central bank had expected.
The consumer price index rose by 4.5% in February, compared with the same month a year earlier, the statistical office reported yesterday.
That is more than the central bank's maximum target of 4%.
The combination of all that data has analysts worried that interest rates will have to be raised.
"The high consumer price index growth released [on Wednesday] and today's strong output data add to the likelihood of an interest rate rise," said Kim Hyo-Jin of Dongbu Securities.
However, the rate hike may not happen immediately, as the central bank may wait to see the impact of unrest in Libya and the Middle East on the global economic environment, analysts said.
The unrest has caused a surge in oil prices, raising concerns about growth in global economies slowing down.
That could have a direct impact on the health of the South Korean economy.
Analysts say that these external factors could play a major role in the central bank's policy decisions.
"Considering external uncertainties, the central bank may need to wait and see for one more month," Mr Kim added.