Bentley predicts continued sales recovery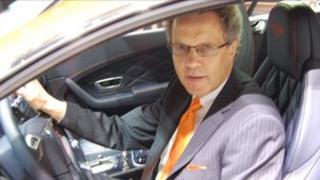 UK luxury car company Bentley says it expects double-digit sales growth again this year as it continues its recovery.
Last year sales rose 11%, and so far this year the carmaker has seen strong demand for its new Mulsanne and its face-lifted Continental GT models.
This should be a boost to Bentley staff who saw their pay cut in the recession when sales halved to 5,000 a year.
"My biggest challenge is to bring back the full confidence of the workforce at Crewe," said chief Wolfgang Durheimer.
"I'm going to tell them is that we'll need to work hard to make a good living for everybody so that we do not have to suffer another 20% pay cut in the future.
"We will look at our processes, look for more efficiencies, to use our resources more efficiently and together we can be more successful."
New strategy
Initially, the growth strategy will be based on Bentley's existing models in a naturally expanding market.
"We have a drivers' car and a car you can be driven in, and worldwide, we still have a growing group of quite wealthy people," Mr Durheimer told the BBC.
"So we still have great opportunities with the existing products."
But the company is also preparing to extend its model range.
"We have already identified some niches that are not covered by Bentley products so far," he said.
In the future, the company's cars may also be kitted out with new engine solutions.
"We will conduct a deep evaluation of our power trains," said Mr Durheimer.
The company is currently considering a variety of options, including smaller petrol engines, petrol-electric hybrid solutions, and diesel engines from within the parent company Volkswagen Group.