Pension age workers on the rise says ONS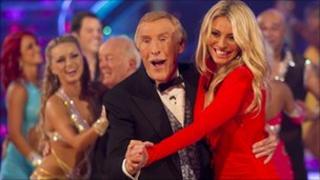 Double the number of people aged 65 and over are working in the UK compared with a decade ago, official statistics show.
A growing number of older people are working either full-time or part-time and make up a rising proportion of the total UK workforce.
The trend is revealed in the Office for National Statistics' (ONS) data on older workers at the end of 2010.
Youth unemployment was at a record high during the same period.
Long service
In October to December 2010, there were 270,000 full-time workers in the UK aged over 65. This accounted for 2.7% of the total population in that age group. This compared with 106,000 (1.2%) in January to March 2001.
In the same period, there were 600,000 people aged 65 and over who were working part-time, some 6.1% of the age group. There were 306,000 part-time workers, 3.4% of the age group, in the first three months of 2001.
In total, there were 870,000 workers aged over 65 and they made up 3% of the entire UK workforce - double the proportion of the first three months of 2001.
The ONS said that employment rates for the over-65s increased during the recession.
Meanwhile youth unemployment rose to a fresh record high in the three months to the end of December, with more than one in five 16 to 24-year-olds out of work after a rise of 66,000 to 965,000, the ONS has announced previously.
The UK unemployment rate is now 7.9%, with youth unemployment running at 20.5%.
Staying on
Many older workers are staying in the jobs where they already have long service, rather than finding new roles.
In the three months to the end of December, 83% of the over-65s had been continuously employed by their current employer for five years or more, including 41% who had been working there for 20 years or more.
Malcolm Mclean, of the actuarial firm Barnett Waddingham, said that many people wanted to continue working as they were in better health and living for longer than previous generations.
Some needed to continue working after realising that their retirement savings were insufficient, sometimes because of periods of unemployment during their working life, he said.
The forthcoming end to the default retirement age would increase the numbers working on after 65, he predicted.
A separate report by charity WRVS concluded that the over-65s made a net contribution to the UK economy of £40bn last year in taxes, spending power and donations. It estimated this would rise to £77bn by 2030.
This estimate was also after allowing for the cost of pensions, welfare and health services, which equated to just over £100m a day, it said.
Michelle Mitchell, of charity Age UK, said: "Age should never be a barrier to achievement and research has shown that many older workers have no intention of taking it easy and are still looking to continue to progress with their careers."