Ex-Goldman Sachs director charged with insider trading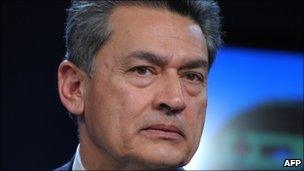 A former Goldman Sachs board member has been charged with insider trading.
The US Securities and Exchange Commission said Rajat Gupta leaked details about Warren Buffett's $5bn (£3bn) investment in Goldman in 2008 to Galleon Group founder Raj Rajaratnam.
The SEC said Mr Gupta had tipped Mr Rajaratnam by phone minutes before the investment by Mr Buffett's Berkshire Hathaway became public knowledge.
Mr Gupta's lawyer called the allegations "totally baseless".
A spokesman for Goldman declined to comment, as did Jim McCarthy, spokesman for Mr Rajaratnam.
The investment from Berkshire Hathaway helped to ensure Goldman's stability during the financial crisis.
The financial watchdog said that Mr Rajaratnam used the tip-off about the investment from his "friend and business associate" to trade for Galleon funds, generating more than $18m for the hedge fund group.
It also said Mr Gupta invested in some Galleon funds.
"Gupta was honoured with the highest trust of leading public companies, and he betrayed that trust by disclosing their most sensitive and valuable secrets," SEC enforcement chief Robert Khuzami said.
However, Mr Gupta's lawyer denied the allegations.
"Mr Gupta has done nothing wrong," his lawyer Gary Naftalis said in a statement. "There is no allegation that Mr Gupta traded in any of these securities or shared in any profits as part of any quid pro quo."
Rajat Gupta sat on the board at Goldman from November 2006 to May last year.
He is also charged with giving Mr Rajaratnam confidential earnings information from Goldman and Procter & Gamble, where he had served on the board since 2007.
Mr Gupta resigned from his position on the P&G board on Tuesday after the civil charges were announced.
"He's stepping down in the interest of the company, to prevent any distraction to the P&G board or our business," company spokesman Paul Fox said.
Galleon Group's Mr Rajaratnam has already been accused of generating profits of more than $50m after receiving inside information.
He faces a criminal insider trading trial, scheduled to begin on 8 March. He also faces SEC civil charges.
He has denied any wrongdoing.
Related Internet Links
The BBC is not responsible for the content of external sites.