Australian economic growth picks up pace at end of 2010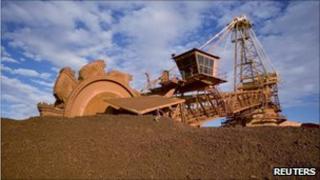 Australia's economy has picked up pace in the fourth quarter of 2010, despite some of the worst flooding in the country's history.
Gross domestic product rose by 0.7% in the October to December period, up from 0.1% growth in the previous quarter, the statistical office said.
That pushed the full-year growth rate to 2.7% in 2010, which is in line with initial forecasts.
Analysts said they see growth accelerating further this year.
Full impact
However, they warned that the first three months of 2011 may prove difficult as the full impact of flooding in Queensland and Victoria sinks in.
"You are getting off to a soggy start and a big rebound in the second half," said Stephen Walters of JP Morgan.
He added that the pace of economic growth will pick up so quickly that it is likely to force interest rates higher.
"It is going to seem really sluggish and then it is going to be the biggest boom you have ever known, so I think the Reserve Bank of Australia are going to have to look through that," he added.
Australia's central bank has left the borrowing costs unchanged for four months in the row, saying consumer price growth is within its target range.
Its main borrowing cost is currently at 4.75%.
Domestic demand
Analysts say strong domestic consumption and expanding commodity exports to Asian countries will continue to support growth.
Robust domestic demand was evident in the latest etail sales figures which showed a bigger-than-expected increase.
According to the Australian Bureau of Statistics, retail sales rose by 0.4% in January from the previous month.
"The economy was gathering momentum in the fourth quarter but it sort of lost that in the beginning of this year because of the floods," said Matthew Circosta of Moody's Analytics.
"But ultimately the economy will prove resilient in 2011 and will accelerate," he added.
Australia's stock market was down by 0.8% by midday in Sydney, tracking declines in the US and Asia.