Australia keeps rates at 4.75% as inflation fears abate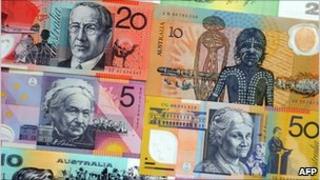 Australia's central bank has left interest rates unchanged as it forecast inflation will remain within its target this year.
The Reserve Bank of Australia left its main rate at 4.75%, the fourth month in a row that it has not altered borrowing costs.
It said a number of factors, such as a strong currency, were limiting price growth.
However, analysts voiced fears that inflation may pick up in coming months.
Stephen Roberts of Nomura said that he expects to see more evidence of accelerating inflation over the next month or two.
"I see two rates hikes this year, with the second one around September," Mr Roberts added.
Price pressure
Australia's economy has been growing steadily driven by a boom in commodities and low unemployment rates.
That has led to an increase in domestic demand, which some analysts fear could put upward pressure on consumer prices.
Earlier, the Australian Bureau of Statistics reported a stronger-than-expected increase in retail sales.
Sales in January rose by 0.4% from the previous month, the bureau said.
At the same time, there are fears that the damage caused by extensive flooding in Queensland may also affect the prices of essential commodities, helping speed up inflation.
'Production losses'
However, the central bank played down these concerns.
"Production losses due to weather are temporarily raising prices for some agricultural produce, but these should fall back later in the year," the bank said.
"Overall, looking through these temporary effects, the Bank expects that inflation over the year ahead will continue to be consistent with the 2-3% target," it added.
The central bank added that other factors would also help keep prices in check, not least the exchange rate, an earlier decline in wages growth and strong competition in some key markets.