Corruption leaves US county battling 'sewer debt'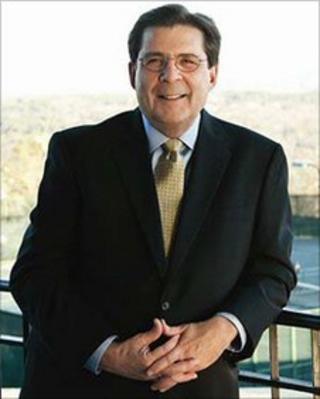 Despite some recovery in US economic growth nationally, many states and counties are facing bankruptcy at a local level.
Investors are concerned that money borrowed in the form of municipal bonds may never be paid back.
The debt burden is crippling places such as Jefferson County in the southern state of Alabama.
"In all sincerity, I have to say that we are bankrupt right now," says David Carrington, who has recently been appointed president of the Jefferson County Commission, an authority based in Birmingham.
"We can't pay our bills. We are just playing the game of semantics."
It is overwhelmed with debt because of corrupt practices, he says, "when bribes were given by members of the financial community to government officials in the county" to win business financing the upgrading of the sewage system.
Investment bank JP Morgan Securities and two of its former directors have been fined for offering bribes. Six former county commissioners have been convicted of crimes for accepting them.
The project has left the county in debt to the tune of $3.2bn (£2bn).
"It is a sum which the 700,000 residents of the county will never be able to repay," Mr Carrington says.
Financial gloom
When he was sworn into office in November 2010, Mr Carrington inherited a number of problems.
"After the conviction of former officials we have to restore the public's trust in elected officials, and we have $4.2bn of debt - most of which is for the sewage system," he says.
The county has so far received $75m from the US Securities and Exchange Commission, from a fund set up to compensate investors harmed by bad bond deals.
But that amount has been likened by another commissioner, Jimmie Stephens, to "a Band-Aid for a wound which has been bleeding for a long time".
Facing a 25% drop in operational revenue, services have been drastically curtailed.
Public employees have had their salaries reduced or have been laid off, jails and libraries have closed, businesses are boarded up and homes stand empty as the county strives to repay the Wall Street banks.
The sewer bill which people have to pay has gone up 400% in recent years.
"Typically someone is paying $40 a month for water, and they are paying $80 to $100 a month for sewage," Mr Carrington points out.
Political expediency
The sewage system had to be updated because it had reached the stage that when it rained, raw sewage would overflow into some of the rivers.
Money was borrowed for the work and then investment banks offered refinancing deals.
"A problem in the US with government officials is we are elected every two or four years, so many people are trying to focus their attention on the next election instead of solving problems," Mr Carrington says.
"You get into a situation where you are worried about how much money you have to pay for the next four years, not the next 30 years," he says.
Deals were initially structured whereby the early years attracted very low payments, but then payments are accelerated in later years.
"It creates the attitude of people thinking that is for someone else to worry about in the future," he says.
"We basically have a debt structure in which people are going to be paying back the money over 30 years."
The original project only cost about one third of the current debt - the increase coming through fees, interest and late payment penalties.
Mr Carrington maintains that the banks which offered bribes to county officials to accept their debt rescheduling proposals have to take a huge responsibility for what happened to the public in Jefferson County.
He has two objectives; to restructure the debt, and to ensure that people in the lowest socio-economic group are not overburdened.
"This is a sensitive issue and we are asking the courts to tell us what is a reasonable sewer rate for us to charge," he says.
Country-wide problem
There has been much speculation in the US that many local authorities could default on their municipal bonds. Apart from Jefferson County, Mr Carrington fears there could be massive bankruptcy filings throughout the US.
"That is a possibility with some municipalities, cities and counties and quite frankly, states such as California, New Jersey and Wisconsin," he maintains.
"We cannot continue to tax at the level that we have done in times past, and that is going to require some changes in the way things are done," he says.
"We had the situation where banks loaned us enough money to build a million-dollar sewer system, but there was a lack of fiduciary control," he says.
Municipal bonds were sold to repay the banks but according to Mr Carrington, the people selling those bonds "were only interested in the fees for churning them out. They were not interested whether the municipalities could pay the bonds back".
Who pays?
He is hopeful that some investors in the sewage scheme will get their money back.
Some of the bonds are currently held by major financial institutions others are held by average investors.
"I don't think some grandmother in Des Moines, Iowa, who bought the Jefferson County sewer bond had anything to do with the bribes or with the corruption," he says.
"Hopefully we can make her 100% whole because some of the people in companies that were guilty will step up and help those people."
Mr Carrington has a huge task ahead of him but his mission is to get the county solvent again.
"To be honest with you, on 22 April 1999, I was told I had cancer. I think cancer is a blessing to those of us that survive it, It gives you the opportunity to sit back and assess what you are doing with your life, what's important to you," he says.
He explains how he started a journey that allowed him to spend more time with his family and, with the extra time, he started volunteering in community service.
"I have been in elected office since 2004 and I felt that with my business and political skills, I had something to offer to solve the massive problems facing our county," he says.