Oil price steadies despite Saudi Arabia protest fears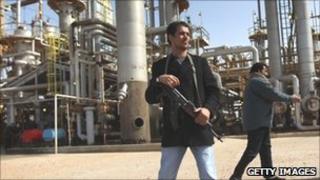 Saudi Arabia has sought to ease renewed pressure on the oil market on Monday.
Oil prices had risen 2% in early trading, due to the shutdown of Libyan production as well as fears that unrest might spread to Saudi Arabia itself.
But prices fell back again after Saudi state oil company Aramco announced that all demands for extra oil had been met.
Sentiment was also boosted by news that the eastern Libyan port of Tobruk had reopened and a Chinese tanker was being loaded.
Brent crude was slightly lower for the day at $111.72, while US light, sweet crude was down 1.5% at $96.89.
Brent had earlier reached $114.50 - still well below its Thursday peak of $119.80 - while US light, sweet crude hit $99.50.
Control of oil fields
Also on Monday, the European Union's Energy Commissioner Guenther Oettinger said that most of Libya's oil fields were no longer under the control of Libyan leader Colonel Muammar Gaddafi.
"There is reason to believe most of the oil and gas fields are no longer under Gaddafi's control," Mr Oettinger told a news conference.
"Instead we have provisional [regional] leaders who have taken control," he said, adding there was therefore no point in blockading Libyan energy shipments.
"We would be punishing the wrong people," he said.
Mr Oettinger was speaking after EU ministers approved a package of sanctions against Colonel Gaddafi in response to his attempts to suppress anti-government unrest. The sanctions included an arms embargo, asset freezes and travel bans.
Stock market fall
Meanwhile, the world's biggest shipbroker Clarkson said that oil cargoes were still leaving Libya, with a majority of its loadings going normally.
Nevertheless, Shukri Ghanem, head of the state-run National Oil Company and Libya's de facto oil minister, said that the country's oil production had been cut by about 50%, although some estimates say oil output has fallen by up to 75% due to the revolt.
Whatever the shortfall, the Saudis have promised to make up for it.
However, on Sunday, the Saudi stock market fell 5% after 119 academics, activists and businessmen wrote an open letter to the king demanding reform.
The Tadawul all-share index has fallen a cumulative 10% in the last two weeks to its lowest level in six months, prompting some Saudi investors to call on the government to intervene to steady the market, or even to close it.
The index had recovered early losses and remained largely unchanged for the day on Monday.
The news comes as the Egyptian stock exchange is set to reopen on Tuesday after a month-long closure due to the popular uprising there, although protesters continued to gather outside the stock exchange building intent on forcing another delay.
'Spike and crash scenario'
Libyan supply could be knocked out for months, according to a report by US investment bank Merrill Lynch.
The Wall Street firm said that as much as 1.2 million barrels-per-day of production may have been shut down already, and that production facilities in the west of the country were prone to attack by government or opposition forces, which would lead to a prolonged output loss.
There remained a substantial risk that oil prices could move sharply higher, undermining the global economic recovery, the research piece warned, and the market only had limited ability to withstand further unrest in the Middle East.
"The combination of a substantial run-up in demand coupled with a very severe supply shock makes a spike and crash scenario increasingly likely for global oil prices and the world economy," it said.
The investment bank said that a 10% rise in oil prices - if sustained - would lead to a 0.5% reduction in global oil demand.
Saudi 'day of rage'
The letter to the Saudi king complained about the prevalence of corruption and nepotism and a widening gap between state and society.
Meanwhile a Facebook site calling for a "day of rage" in Saudi Arabia on 11 March has seen its number of subscribers increase from 400 to 12,000 in recent days.
Analysts fear the kingdom may face the same volatile generational schism that has affected Egypt and elsewhere.
Two-thirds of the Saudi population is aged under 30.
Youth unemployment is about three times the national average and there is an 18-year waiting list for government-provided housing.
The threat of protests has already wrung concessions from the 87-year-old King Abdullah, who only recently returned from three months of medical treatment in the US.
He has offered permanent work contracts to an estimated 50,000 state workers, and spent $36bn (£22.3bn; 26.1bn euros) of the country's $440bn in currency reserves on social initiatives, including a 15% pay rise for public sector employees.
Swing producer
Saudi Arabia plays a critical role in global oil supplies.
Not only is it the world's biggest producer, with the world's largest reserves by far, but the country is also a key "swing producer" within the Organisation of Petroleum Exporting Countries (Opec), retaining most of the world's spare production capacity.
The kingdom accounts for the bulk of Opec's additional 4.7 million barrels-per-day available, compared with Libya's exports estimated at 1.5 million.
Meanwhile violence flared on Sunday for the first time in non-Opec Oman - which produces about 865,000 barrels-per-day - as police cracked down on pro-democracy demonstrations there.