Growing old in China: The business of going grey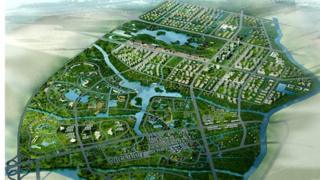 It is not just Western societies that are going grey. Developing countries are ageing even faster than developed societies, says a United Nations study. Taking care of the elderly is becoming a global problem, says reporter Danwei Zhang.
Liu Ye, 60, is a single mother living in Shenyang, a city in northern China.
Her only daughter lives far away, working for a consultancy in Shanghai.
The distance is a worry for Ms Liu (who does not want her real name to be used). As she gets older and nears retirement, taking care of herself will get more difficult, she says. Moving to Shanghai is not an option; the city is far too expensive.
Ms Liu has only one daughter, because her child was born in the 1980s under China's one-child policy.
Many in her daughter's generation have moved to cities such as Beijing or Shanghai, seeking a better life, but that is often far away from their parents who are now getting old and need care.
China goes grey
In China, more than 166 million people are aged 60 or older. That is 12.5% of the country's population.
By 2030, this will have more than doubled to 360 million people, according to the Chinese Ministry of Civil Affairs.
As care needs soar, people such as Ms Liu are pondering whether a retirement village might be the best place to find support in their old age.
Surveys suggest that almost 12 million Chinese over 60 would consider that option, according to a report by China's National Committee on Ageing.
"For the senior care industry, China is a huge potential market," says Zheng Xiaojun, chief executive of property investment firm Greenfield Capital Group.
"Especially in modern cities such as Shanghai, the one-child generation will face a big problem: How to balance looking after their parents with developing their career," he says.
Foreign partners?
Mr Zheng is about to make big investments in the senior care industry. He already has the backing of local governments to build retirement villages near Shanghai, Tianjin, Dalian and Chengdu.
These villages, he believes, are the best option for ageing parents such as Ms Liu and the many people like her.
"The senior care market is not expanding because people get older," says Professor Renyuan, deputy director of the Institute of Population Research at Fudan University. "The rise in living standards is boosting the industry."
However, not all is straightforward in this industry.
In 2006, a Shanghai real estate company announced plans to build a luxury retirement village in the so-called Shanghai International Medical Zone (SIMZ); due for completion in 2010, it was aimed at wealthy old Chinese pensioners.
The firm even boasted an investment partnership with Augustinum Group, a leading provider of retirement homes in Germany. In reality, work on the project stopped years ago.
The zone's marketing director blames complications over government policy and land leasing. Contact with the Shanghai real estate firm was lost in 2007, while Augustinum Group says it never made any investments in China.
Look west
The SIMZ is still looking for partners and says it is talking to potential investors in the United States and Germany.
Retirement villages are also property projects, says Professor Ren. Real estate investors use care homes to promote their business and get local governments to back them. The biggest attraction, though, is that local governments often provide land at a lower price if it will be used for care homes.
"We should encourage business people to invest in this industry," says Professor Ren. "Government supervision and standardisation is very important for this market's development."
Grey UK
The care home project near Shanghai may have failed, but it proves that both local government and Chinese companies are eager to find Western partners, and that Western investors are eyeing the sector.
"China should learn from the West's advanced experience in the care industry", says Professor Ren. "They should look especially at the US and the UK."
The UK, for example, already has more than 30 years' experience with retirement villages, and needs to grow its care sector as the population goes grey.
By 2034, 23% of the UK population will be 65 years old or over, while just 18% will be 16 or younger, according to the Office for National Statistics.
Mr Zheng at Greenfield Capital hopes for Western investment and co-operation: "We need advanced management and service systems, their experience, as well as advanced equipment".
However, he yet has to identify potential partners or find out whether they would be interested in cooperation at all.
Chinese challenges
Partners could be UK companies such as Audley, which has been building and managing luxury retirement villages for more than a decade.
Nick Sanderson, its chief executive, says his firm has "not really investigated the Chinese market in sufficient detail [but] would consider lending expertise to new entrants in the market".
For now, expanding in the UK absorbs most of Audley's capital. And Mr Sanderson worries about the challenges of going into the Chinese market - culturally, regulatory and financially.
Mr Zheng understands Western worries, but warns investors to take note of Chinese government policies and start to seek opportunities now.
"In China, timing is very important," he says.
Says Professor Ren: "It's never too early to be a successful investor.
"Early investors usually win more opportunities to succeed."
'Lonely and guilty'
But for the Chinese, it may take time to accept retirement villages.
While the daughter of Ms Liu is concerned for her mother, she worries that "my mother may feel lonely and guilty for her age, living there.
"And people may judge me being irresponsible about my parent.
"It doesn't matter about the money or the service in the retirement village; it is totally about whether I act responsibly.
"I hope mum can live her retired life happy and comfortable, but for most old people in China, the happiest thing is to live with their children."
However, these attitudes will change further as cities develop and people move around, believes Professor Ren.
Placing their parents in retirement villages will be the choice young people have to make, he says - sooner or later.