Rolls-Royce to show electric car at Geneva motor show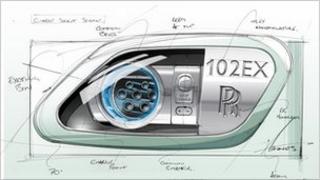 Luxury car maker Rolls-Royce is to unveil an electric version of its Phantom flagship model at the Geneva motor show.
The experimental car will not go into production but the company will use it to gauge customers' opinions.
Chief executive Torsten Muller-Otvos said the firm was "seeking clarity on which alternative technologies may be suitable [in our] cars in the future".
Parent company BMW is exploring a range of hybrid and all-electric solutions.
And Mr Muller-Otvos is keen to explore a wide range of developments.
"I must be convinced that any alternative drive-train we choose for the future delivers an authentic Rolls-Royce experience," he said.
Electric motoring is increasingly becoming mainstream, although cars that combine batteries with petrol or diesel engines in some way are generally seen as more viable for large vehicles.