Bahrain economy: What impact will the turmoil have?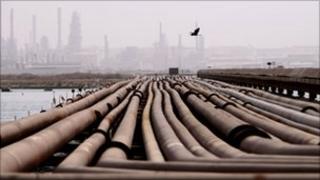 Bahrain was the first place in the Middle East to hit oil.
But the find, at Well Number One in 1931, was the Gulf kingdom's only discovery to date.
The commodity makes up only about 15% of its economic output, and the economy is reliant on other industries, chiefly financial services and tourism.
But - given the lack of taxation in the island nation - petroleum is still the government's key source of finance.
Now this previously calm state is wracked by mass demonstrations, an influx of Saudi and other foreign troops, and a violent crackdown by Bahraini security forces.
So what would further disruption in the kingdom mean for its economy?
Banking sector
Bahrain has seen steady growth - of about 4.3% in the first nine months of 2010, according to the latest data available.
Unlike the demonstrations in Egypt and Tunisia - which ultimately led to the downfall of the countries' leaderships - protesters in Bahrain do not appear to be motivated by issues of poverty.
However, compared with other states in the region, Bahrain does not have vast mineral resources, says Julie Richards, Middle East analyst at the London-based Business Monitor Index.
"Obviously it's more wealthy than Egypt or Tunisia, but in terms of the Gulf region, it's not as wealthy as Qatar or the UAE [United Arab Emirates] for example," she told the BBC.
"It does have oil production, but this is fairly small. It has a financial centre and other industries, such as tourism, are quite important to the kingdom as well."
Some banks still have their regional bases in Bahrain's capital, Manama, and it remains a centre for insurance and Islamic banking.
There are about 400 licensed financial institutions, including 138 banks, of which 28 are purely Islamic, according to the Central Bank of Bahrain, which says assets held by the banking sector in Bahrain total $224.1bn.
There are almost 170 insurance companies, but Bahrain has been overtaken by Dubai in the UAE for the title of financial centre of the Gulf.
'Reassessing risk'
Until recently, Bahrain's banks and stock exchange had remained open despite the protests.
But that all changed on Wednesday 16 March, when the Bahrain Bourse was shut until further notice as the government declared a state of emergency.
Some analysts say that the violence on the streets may prompt international firms to consider their position.
Indeed, HSBC and Standard Chartered - two of the biggest foreign banks in Dubai - have just announced the closure of all their branches to ensure the safety of staff.
"Investors are reassessing the risks in the Middle East and Gulf region," says Ms Richards. "But companies might not pull out of the region as a whole - they might look for more stable bases - perhaps to Abu Dhabi or Qatar for example."
'Bad image'
Another key industry is tourism, which currently makes up just under 9% of the kingdom's GDP - something it has said it hopes to raise to 11% by 2020.
The tourism sector had a lot of potential and was witnessing rapid development, says the Bahrain Chamber of Commerce and Industry's tourism committee head, Nabeel Kanoo.
But he told the Gulf News that if protests increased, "word would spread Bahrain is not a safe place and that is not true," he said, speaking before foreign troops arrived in the country.
"Bahrain is a very safe place and very welcoming to people from everywhere. We don't want that image to take a beating," he added.
Ms Richards said that there were signs that visits were being cancelled, particularly from Saudi Arabia, a big source of the approximately two million visitors it receives each year.
One means of boosting tourist numbers has been hosting international events - including the Formula 1 Grand Prix.
But now the season-opening race has been cancelled due to the unrest in the country, something that Ms Richards feared would "give a very bad image in terms of Bahrain's tourism industry".