Relief and optimism in 'New Egypt'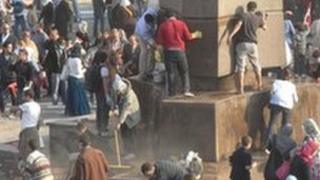 As Egypt enters a new chapter in its long and illustrious history, one man explains how the changes will affect him and his family.
As Hussien Sharaf leaves for work, he has a smile on his face which has been missing for almost a month.
After the protests which eventually saw president Mubarak stepping down, he feels as though life can only get better for him and his family.
He lives in Heliopolis, a wealthy suburb in the east of Cairo, with his wife, his twin sons and his nine-month-old baby.
And he points out that the translation of Heliopolis, means 'New Egypt'.
"This is not just a New Egypt for the area where I live, but for the entire country," he says.
With the resignation of Hosni Mubarak from the country's presidency still fresh, it is uncertain whether the recent wave of change will continue, or the old strict spirit will be revived,
But Hussein is still optimistic.
"I am sure that Egypt won't be the same Egypt as before 25th of January [when protests in Tahir Square began]. It will be a much better Egypt," he proclaims.
The spread of corruption
Like many of his friends, Hussien wanted Mr Mubarak to step down as president, but not in the manner in which he was forced from office.
He says people are angry now but, when they have time to reflect, they will remember the former leader as a war hero who he did many good things in his time.
Hussien also has reason to look favourably upon the former prime minister Ahmed Nazif.
During his previous tenure as a minister of IT and Communication, Mr Nazif oversaw the building of a successful infrastructure for modern communication.
Within a few years, Egyptian citizens were able to use Asymmetric Digital Subscriber Lines (ADSL) instead of conventional dial-up, and a lot of international IT companies opened businesses in the country.
"I tried my luck in one of those international companies," Hussien says.
He wanted to have his own business, where he could help young people get into the field of IT and start closing the gap between rich and poor.
"I thought I could work with my father whilst setting up my business and finishing my academic studies," he muses.
"But things started getting worse. Old people lost their vision, lost their credibility, and corruption spread everywhere in Egypt like a cancer spreading in a human body."
Internet lifeline
When he realised that his father's business could not support him whilst he was studying, Hussien turned to the internet to find work.
He signed up to a site where companies offer opportunities for outsourcing on a freelance basis - anything from translation to writing computer programmes. If someone thinks they can do the job on offer, they bid for the work.
"I was so desperate that I made my first bid for $30 and worked on the project for four days," Hussien recalls.
"I felt a little humiliated working for such a small amount of money but after my second project, I realised that the site could be a source of funding my studies and it could allow me to support my family."
Wave of change
Outsourcing was not only a question of money. It offered a new career and after Hussien finished his studies it became a full-time job - one which saw him working ten hours a day from an office close to his flat in Heliopolis.
"I had a source of income for my family, but time was frozen and in Egypt no smiles could be seen on faces," he says.
Although Hussien and his friends do have work, they are surrounded by people living in abject poverty.
"It is so unjust," he says. "People are just living, waiting to die, with no enjoyment in their lives."
He notes that there was suddenly a big wave of change, initiated by all Egyptians: "rich and poor, young and old, Muslims and Christians.
"Some people thought that they were losing their stability while others thought that it was worth risking stability and lives for the sake of restoring smiles to Egyptians and to restoring the country back to its youth," he says.
Moving forward
Hussien went to Tahrir Square with his family after the president stood down.
"There were hundreds of volunteers working at Tahrir square, cleaning, repainting the edges, and others standing and holding hands in front of the fresh painted edges so that nobody stepped on it," he says.
Nobody can be sure what will happen in the next few months, but Hussien believes that with the new spirit of unity between all citizens in Egypt, together with the army, the country will emerge stronger and more prosperous.
"We are sure that the future will be much better than three weeks ago," he says.
He is aware that it might take a while for companies in Egypt to return to full production, and that foreign investors might be a little cautious.
There are also concerns that the country's military leadership controls various business interests, which could influence the course of events, in the run-up to elections.
"But I feel comfortable that the army will do something about corruption," he says, "And then any money coming into the country will go to help the right people."