HMV insiders mull retailer's prospects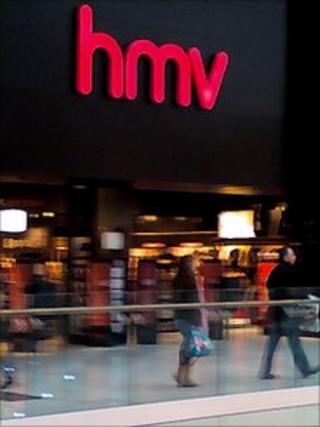 For one former HMV employee, it was an anecdote he recently heard from industry contacts that brought home to him where the music retail chain had gone wrong.
It was the tale of a customer who had gone to his local independent record shop in search of a back catalogue CD after trying in vain to find it at the same town's branch of HMV.
"He asked in HMV for Crosby, Stills, Nash & Young and was asked, 'Do you know what type of music they are?'" says the ex-staffer, who prefers not to be named.
"He replied, 'Is the manager about?' and was told, 'I am the manager.' That's when he went elsewhere.
"When I worked at HMV, the most important thing when we employed people was their musical knowledge. But now, you get a job if you worked at Burtons before.
"It's just whether you've got a bit of personality and you can sell things. They're looking for a retail background as opposed to a musical background."
This strategy does not seem to be bearing fruit. HMV has issued a series of profit warnings this year and now expects its full-year profits to be about £30m, down from an earlier estimate of £38m.
It also has estimated debts of £130m, which have now prompted the group to sell the Waterstone's book chain for £53m in response to pressure from bankers.
Admittedly, HMV faces some hard choices and there are no easy answers to its plight. But if you walk into many of the chain's larger stores, such as the branch in west London's Westfield shopping centre, it is clear music is no longer the only game in town.
CDs are fighting for space with DVDs, Blu-Ray discs and iPod speaker systems, while vinyl, which has enjoyed a surprising comeback in recent years, is nowhere to be seen.
"HMV had the chance to be the dominant music retailer, but they took the decision to cut back on specialist music and vinyl," says the ex-staffer.
Years of growth
At present, HMV is reported to be trying to secure a breathing space by negotiating with the major labels to stock back catalogue CDs on a sale-or-return basis, rather than paying upfront for them.
Sony, Universal, EMI and Warner are apparently concerned the chain could disappear if they do not take steps to help it.
So if HMV has seen better days, when were those days exactly? And how did it rise to become Britain's best-known music retailer?
Well, other former HMV employees say its success owed a great deal to one man, Brian McLaughlin, who retired in December 2005 after 37 years with the company.
Before Mr McLaughlin joined HMV as an assistant in its Portsmouth branch, the company was one of a number of medium-sized names in record retailing, with little more than a dozen outlets dotted around the country.
But by the dawn of the 1980s, he had worked his way up to become its director of operations, overseeing the expansion that made it a firm fixture on the country's High Streets.
"Brian McLaughlin was the man who took HMV from being a provincial thing to a national record retailer," says Ian Ashbridge, who worked for HMV for 10 years and now runs independent label Wrasse Records with his wife, Jo.
"He developed the megastore concept - if you're the best retailer, you've got to offer the best range. It would be the best in everything it did, but it would not be all things to all men."
Talking of megastores, it was on Mr McLaughlin's watch in 1984 that HMV opened its flagship 50,000 sq ft store at 150 Oxford Street in London. Back then, it was four times the size of HMV's biggest existing outlet, which was further down the same street.
As Mr McLaughlin told the trade paper Music Week in 2005, the move came in response to advance warnings US chain Tower Records was planning to enter the UK market with a big central London store.
"I think that move seriously stopped Tower from taking over music retailing in the UK," he said.
Tough times
Tower, of course, is one of many former rivals to HMV that have since fallen by the wayside. It retreated from the UK in 2003, selling its London stores to Virgin, which later changed its name to Zavvi before going into administration in 2008.
Clearly HMV has done well to survive while its competitors have gone to the wall. But music downloads, cut-price supermarkets and online retailers such as Amazon are conspiring to make life tough for High Street music outlets.
Thanks to its own online presence at hmv.com and its 50% stake in download store 7digital, HMV is fighting back.
But one of the UK's foremost chroniclers of the state of modern record stores, Graham Jones, author of the book Last Shop Standing, says it is important for HMV's physical stores to keep going as well.
"HMV has 280 stores and there are 269 independent record shops. It would be an absolute tragedy if HMV vanished off the High Street, because they do offer more diversity than the supermarkets," says Mr Jones, himself a former employee of HMV.
"Tesco recently announced that 1,100 of their Tesco Express outlets would start stocking music. But that's just 1,100 more places stocking six titles - the same six X-Factor-type artists.
"It's a worrying trend - more shops are opening up to sell music, but it's the usual titles, such as JLS and The Wanted."
Next generation
So does HMV have a place in the future landscape of music retailing? Mr Ashbridge is optimistic.
"People need to look at the next generation and ask, how do you want to consume music?" he says.
"Clearly there's a community, because everyone goes to festivals. That just doesn't translate to record stores.
"They still talk about music - Rihanna, Lady Gaga, Matt Cardle - the conversation of a 13-year-old child is still the same as it was when I was 13. That's how they define themselves. They're just doing it differently.
"People want to buy music. They will always want to buy music in some form or another, including shows, T-shirts and merchandise.
"Spending on music is going up year on year. You have to keep up with that, but still cater for people who want that Bob Dylan Greatest Hits album and want it quickly, in their lunch hour."
That, of course, is a tall order. But it fits in with HMV's current medium-term strategy, which concentrates on "increasing sales of new product categories and continuing to outperform the changing markets for music, visual and games".
If record shops are to avoid going the way of "the stamp shop and the candlestick maker", as Graham Jones puts it, HMV sorely needs to make that strategy work.