China raises interest rates again to tackle inflation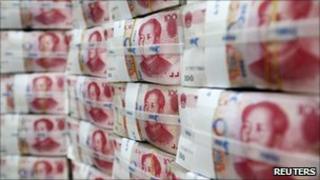 China's central bank has raised interest rates for the third time in four months as authorities ramp up efforts to tackle inflation.
The People's Bank of China said it would raise its one-year lending rate to 6.06% from 5.81% and its one-year deposit rate to 3.0% from 2.75%.
In October, the Bank raised rates for the first time in nearly three years as it sought to tame rising prices.
Inflation for 2010 as a whole was 3.3%, above the official target of 3%.
But it was even higher towards the end of the year, hitting a 28-month high of 5.1% in November, before easing to 4.6% in December.
And there are fears that it could pick up again in January as food prices continue to rise.
The government has now raised its CPI target to 4% for 2011.