Financial knowledge is lacking, a survey suggests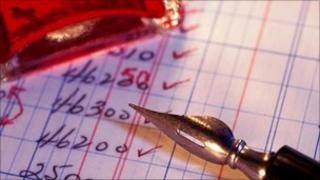 Two-thirds of those asked in a UK survey found financial matters too confusing to make the best choices with their money.
The results of the Learndirect poll, of 3,000 people, have raised concerns about financial know-how at a time when family budgets are being squeezed.
Some 80% of those asked were unsure which benefits and allowances they were entitled to.
Others struggled to get value for money or understand small print.
More than a quarter of those asked said they struggled to work out how to shop around for the best electricity, gas, mobile phone and television packages.
"Citizens Advice Bureaux are seeing more and more people coming to us for debt advice, and with money worries.
"We know there is a need out there for people to have the skills to manage their cash," said John Rhodes, head of financial capability at Citizens Advice.
Learndirect is launching a free guide outlining ways to budget, spend wisely, choose products and look for a job.
A range of advice organisations have been calling for more financial education in schools.