Government to increase bank levy to £2.5bn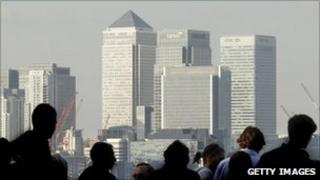 The government says it will increase the levy on banks to £2.5bn this year - raising an extra £800m.
Chancellor George Osborne said the tax was being brought forward before banks announced their bonus payments.
But leaders of the four biggest UK banks were "livid" at the move, said BBC business editor Robert Peston.
A deal with banks to increase business loans and limit bonus payments has not yet been finalised after talks on the wide-ranging Project Merlin stalled.
The scheme, if signed, would involve banks promising to make available £190bn of credit for businesses, supporting the government's so-called Big Society Bank, providing finance for medium-size businesses in economically disadvantaged parts of the country, and showing restraint in bonus payments.
According to sources, the heads of HSBC, Barclays, Royal Bank of Scotland (RBS) and Lloyds will have a conference call on Tuesday afternoon, to decide whether to press ahead with the scheme, our editor says.
"The question the bank bosses will discuss is whether it remains sensible to sign up to Project Merlin, if they can't be certain that the government will resist the temptation to periodically bash them when the political heat is on," he added.
'Hurried mini Budget'
The change in the banking levy would have usually been set out in next month's Budget.
Shadow chancellor Ed Balls said the announcement had been "panicky" and was "a damp squib".
He added that the chancellor's "delay and prevarication" in agreeing a deal with the banks was "further undermining confidence in economic recovery".
The two later clashed in the House of Commons, with Mr Balls referring to the announcement as "this morning's rather hurried mini Budget".
Mr Osborne hit back by calling Mr Balls a "deficit denier"
"We have had to deal with his economic legacy," he said. "He was the City Minister who knighted [former RBS boss] Fred Goodwin."
'Symbolic'
Mr Osborne had originally announced that the government's new bank levy would be phased in, with a lower rate applicable in 2011.
But our business editor said the chancellor had "concluded that the banks are in better shape than he thought less than two months ago, when he announced that a smaller levy would apply in the current year".
The coalition says the levy on bank balance sheets is a better way of making sure companies make a fair contribution to tackling the deficit than extending Labour's bank bonus tax.
The one-off tax, introduced by Alistair Darling, raised £2.3bn - after taking account of the tax reducing income tax and corporation tax receipts. This compares with £1.7bn raised by Mr Osborne's first bank levy.
However, the extra £800m being raised by the increased levy was relatively small, our business editor said, and was "probably of more importance from a symbolic point of view - perhaps indicating a touch more iciness in ministers' attitudes to the banks - rather than from a budgetary perspective".
The shadow chancellor called on the government to retain the bonus tax on top of an increased bank levy.
Bonus talks
The government has been criticised for failing to strike a deal with the banks over lending and bonuses.
The Financial Times reported that the coalition was confident banks would provide £1.3bn over three years to parts of the UK hardest hit by spending cuts, on top of the £1.5bn Business Growth Fund which the banks announced in the autumn.
Bank bosses argue that lending targets for what might be weaker businesses could breach rules that say any decision should be in the best interest of shareholders.
Speaking on BBC Radio 4's Today programme, Mr Osborne said: "What really matters is if we get a measurable and significant increase in lending to small and medium-sized businesses.
"That's what people will want to look at when we conclude a deal, if we conclude a deal."
Meanwhile, Mr Osborne conceded he had not yet struck a deal on limiting bankers' bonuses, saying he hoped that making the tax position plain would aid the prospects of an agreement.
Banks will begin to announce the value of their bonus pots next week, with total payouts expected to top £6bn - almost eight times the additional tax being raised.
The chancellor added that he "understood" people's anger over bonuses.
"It would have been better if, when we were bailing the banks out, we had secured something from the banks in return. Unfortunately I was not chancellor at the time," he said.