US looks for friends in fight against undervalued yuan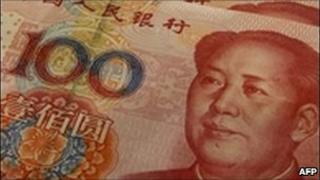 China's currency is back in the spotlight amid reports that the US has sought to increase the number of countries pushing for a stronger yuan.
During a visit to Brazil, US Treasury Secretary Timothy Geithner discussed the manipulation of currency values, the Reuters news agency reported.
He also urged Brazil to put pressure on China to allow the yuan to appreciate, the Wall Street Journal said.
China is accused of keeping its currency weak to boost trade.
The US argues a weak currency gives China an unfair advantage in global trade, keeping Chinese exports at artificially low prices.
The US hopes it will find a willing partner in Brazil because Chinese imports are also hurting its economy.
Brazilian industry leaders recently complained to the government that manufacturers were struggling to compete with a slew of cheap Chinese goods at home and globally.
'Global stage'
Mr Geithner, one of the US's most powerful economic policymakers, travelled to Brazil to meet with President Dilma Rousseff and members of the government.
Following the meetings, Mr Geithner said that the US and Brazil would work "together on the global stage to build a more balanced and more stable, stronger multilateral economic system".
According to the Wall Street Journal, which was quoting a person familiar with the discussions, the two sides did not lay out any specific plans for dealing with China's currency.
However, the paper quoted the source as saying that they may now speak with a common voice on the issue at the upcoming meeting of the G20 countries.
Reuters said that Mr Geithner raised the question of China's currency during a meeting with Brazil's Finance Minister Guido Mantega.
According to the news agency, a government source said that when Mr Geithner brought up the subject of the yuan, he was told that Brazil "was against manipulating exchange rates".
Cheap Steel
The US has already started taking steps against Chinese products it sees as damaging its domestic producers.
On Monday, a US trade panel approved duties on steel drill pipes from China.
The US International Trade Commission said there was evidence US companies were being harmed by low-priced imports of the pipes, used in oil drilling.
The tariffs are the latest in a number of measures levied against Chinese companies in the last few years.