UK retail sales rebound in January, BRC says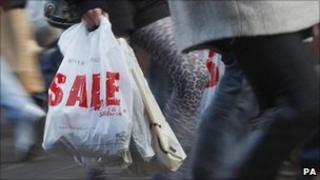 UK retail sales rebounded in January after bad weather caused sales to drop in December, figures suggest.
Like-for-like sales, which strip out the impact of new store openings, rose by 2.3% against a year earlier, the British Retail Consortium (BRC) said.
Clearance bargains on non-food items helped to boost sales at the beginning of the month, it added.
However, weak sales due to snow in January 2010 made sales look comparatively strong, the group said.
Sales fell by 0.7% in the first month of last year.
'Feeble performance'
Pent-up demand following the bad weather in December last year, as well as consumers rushing to beat the rise in VAT, also helped to boost sales at the start of last month.
However, sales then fell back because of consumer caution, the BRC said. Food sales growth also slowed as consumers had stocked up over the Christmas period.
Internet sales also slowed, rising 12.3% against a year earlier, compared with an 18% rise in the previous month.
"On the surface, this is the best sales growth since last March, but that's not the whole story," said Stephen Robertson, director general of the BRC. "Comparisons are with a feeble, snow-hit performance a year ago.
"Growth this January was driven by a relatively short but strong burst of non-food buying early in the month."
Sales then slowed "as the reality of worries about jobs and personal finances returned to customers' minds", Mr Robertson said.
Rising prices
There are widespread concerns that upcoming government spending cuts, designed to reduce the UK's budget deficit, could undermine consumer confidence and, therefore, hit spending.
"Falling disposable incomes will continue to exert pressure on sales in the first quarter of the year, traditionally the weakest period of trading as consumers cut back on spending post-Christmas," said Helen Dickinson, head of retail at KPMG, which helps compile the BRC data.
Disposable incomes are falling in part because of rising inflation, which currently stands at 3.7%, as measured by the Consumer Price Index. Measured by the Retail Price Index, which includes mortgage interest payments, inflation is running at 4.8%. Wages are not rising as quickly.
Figures released last month showed that the UK economy contracted unexpectedly by 0.5% in the final three months of last year.
This was in part due to the bad weather during December, the Office for National Statistics said. Taking out the impact of the weather, however, economic activity would have been "flattish", it said.