AOL's big gamble on Huffington Post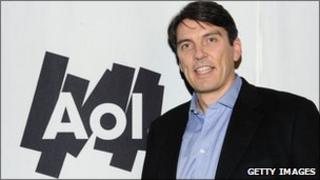 AOL's decision to buy the Huffington Post for $315m (£222m) is a bold gamble for a company that has had more than its share of setbacks in recent years.
Not long ago, the firm that once reigned supreme among internet service providers was left crawling from the wreckage of its merger with "old media" giant Time Warner in January 2000, a "transformative" deal that ended in divorce 10 years later.
That merger was retrospectively dubbed "the worst deal of the century" by former Time Warner chief executive Jerry Levin.
More recently, AOL bought social networking site Bebo in 2008 for $850m (£417m at the time) - then sold it again two years later, according to some reports, for just $10m.
Now chief executive Tim Armstrong is attempting to turn the company into a home for specialist content, with acquisitions including technology websites TechCrunch and Engadget.
In that context, the Huffington Post deal is the latest twist in the story of the continuing search for elusive advertising revenue.
More and more advertising money is being pumped into the internet.
But at the same time, the economic downturn has meant the total amount of money available to spend on advertising has decreased. So media companies are looking for ways to offset the drop in revenue.
The Huffington Post estimates its readership at 25 million unique monthly visitors.
For AOL, the Huffington Post represents a favoured point of departure for many web users and a way to direct more "eyeballs" towards AOL services.
It hopes the Post's readers will spend time on its other pages and thereby drive up the number of page views.
More page views means more advertising revenue - an opportunity for the firm as money continues to migrate to the web.
Upwardly mobile
Once described as "the most upwardly mobile Greek since Icarus", Arianna Huffington founded the Huffington Post in 2005.
HuffPo - as it is sometimes affectionately known - was the culmination of a political reorientation to the centre-left for Ms Huffington, formerly something of a right-wing firebrand.
It was intended as a liberal response to the Drudge Report, a conservative news website.
The Post offers a mix of original commentary from its stable of bloggers, reporters and columnists, with links to news articles from other media firms which reflect its liberal viewpoint.
The idea was to create a progressive news aggregation service which helped readers to sift through the large amount of information online.
This kind of service has not been without controversy, as traditional media companies argue that the aggregators take users away from their outlets - and encourage the idea that content doesn't have to be paid for.
Aggregators say they are just helping to direct web users to the best content available.
Digital age
The deal is not the first such merger.
Media companies have been attempting to come to terms with the new digital age for some time.
Newsweek magazine, established in 1933 and until recently owned by the Washington Post, has merged with Tina Brown's news website The Daily Beast.
However, it is estimated that the newly combined AOL Huffington Post venture will have 270 million users, with 117 million in the US alone, which could give it an edge in the battle for advertising dollars.
Ms Huffington will be in charge of all AOL's content, with some observers predicting a looming showdown as she comes face-to-face with some of the existing executives.
But at least one prominent technology analyst, Rob Enderle, reckons the deal "could put AOL back on the map".
He describes the $315m deal as "just the hiring fee to get Arianna", adding: "This is one of those out-of-left-field moves that actually makes a lot of sense."
But another industry observer, Om Malik, is less sanguine.
"Despite what you might read in the newspapers and blogs, AOL is still in A-O-Hell," he says.
"In the most recent quarter, the company saw its advertising revenues go down 29% at a time when online advertising grew about 14%.
"I wonder if adding more page views from HuffPo is only going to exacerbate these problems in the coming quarters."