AOL to buy Huffington Post in $315m media merger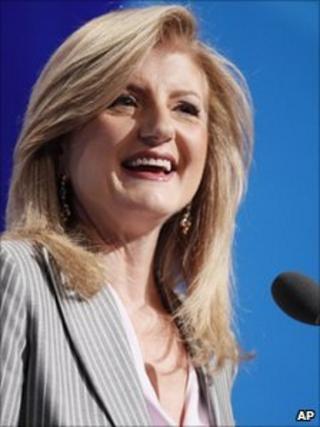 US internet firm AOL has agreed to a buyout of the Huffington Post online newspaper.
The $315m (£196m) deal will create an internet media group with 270 million users, including 117 million in the US.
The purchase price - $300m of which will be in cash - will be paid to co-founders Arianna Huffington and Kenneth Lerer and a few minority shareholders.
Ms Huffington - currently editor of her namesake news service - will head the combined firm's content division.
This means she will take on responsibility for AOL sites such as Engadget and Techcrunch, as well as retaining her current role at the intellectual centre-left website she helped set up in 2005.
"I want to stay forever," said Ms Huffington. "This will be my last act. The opportunities here are really endless.
"Far from changing our editorial approach, our culture, or our mission, this moment will be for HuffPost like stepping off a fast-moving train and onto a supersonic jet."
Advertising
AOL expects the purchase to help boost its flagging advertising revenues in a year that chief executive Tim Armstrong maintains will mark a turnaround for the company that divorced from Time Warner in 2009.
The Huffington Post is expected to contribute an additional 25 million users to the internet giant.
"The combination of AOL's infrastructure and scale with the Huffington Post's pioneering approach to news and innovative community-building among a broad and sophisticated audience will mark a seminal moment in the evolution of digital journalism and online engagement," said the two companies in their statement.
The transaction is expected to be completed in March or April and will need regulatory approval in the US.
AOL has endured a turbulent time since the onset of the global financial crisis.
As well as parting ways with Time Warner, last summer AOL sold Bebo for a fraction of the $850m (£417m at the time) it paid for the social networking site in 2008.