Randgold Resources profits jump despite 'tough' year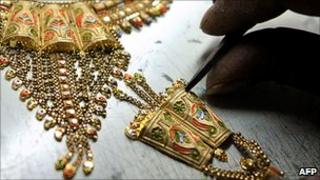 Despite operational and political setbacks in 2010 Randgold Resources posted a jump in profits, helped by soaring gold prices.
The FTSE 100 company posted a profit before income tax and financing activities of $136m (£84m), up from $113.7m in 2009.
Gold sales were $487.67m, against $434m before, and would have been higher but for disruptions in the Ivory Coast.
In a statement Randgold said it "forged ahead" in what had been a tough year.
The company said that about 23,428 ounces of gold from its new Tongan mine had remained unsold at year-end due to problems caused by the disputed Ivory Coast elections.
The sale of this gold would have added $21.7m to Randgold's annual profit.
Randgold also faced technical problems with the expansion of its Loulo mine in Mali.
The price of gold soared in 2010 from under $1,100 an ounce to more than $1,400.
Chief executive Mark Bristow said that given the scale and complexity of the projects it was developing, 2010 was always going to be a tough year.
But with the company putting these difficulties behind it, Mr Bristow said gold production for 2011 is forecast to be between 750,000 and 790,000 ounces, about more 70% than in 2010.