Toyota profits fall 39% on weak sales and strong yen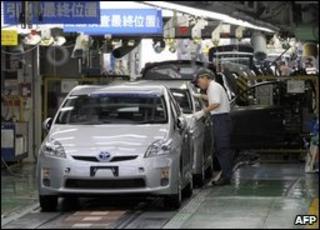 Toyota, the world's biggest carmaker, has reported a 39% drop in quarterly profits after domestic sales slowed and the strength of the yen hurt exports.
Net profit was 93.6bn yen ($1.1bn; £705m) in the three months to the end of December, from 153.2bn yen a year earlier.
Competitors Nissan and Honda have also been hit by slow demand at home.
However, Toyota has had extra global issues after it recalled millions of cars worldwide because of faults.
Despite the drop in earnings, Toyota raised its full-year forecast for profits adding that demand in emerging markets would help offset the decline in its domestic and more developed markets.
The company raised its full-year forecast to 550bn yen.
Yen problems
Last year, Toyota exported more than half of the vehicles it manufactured domestically.
That is more than its main rivals and meant that it had greater exposure to currency market fluctuations.
Toyota President Akio Toyoda has said that the yen needs to be trading at a minimum of 90 to the US dollar to keep Japan's manufacturing sector competitive.
The yen is currently trading at close to 82 per dollar, significantly stronger than Mr Toyoda's target rate.