UK small manufacturing experiences boost in production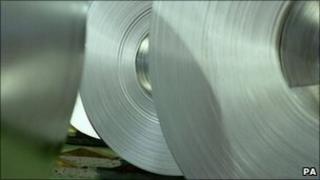 Small firms have seen production improve in the quarter to January, as domestic demand for UK-made goods has improved, says business body the CBI.
Its SME Trends Survey reveals that 30% of the respondents said the volume of output rose, and 17% reported a fall, giving a balance of +13%.
That was slightly weaker than the 19% expected but stronger than the balance of +9% in the previous quarter.
But firms are facing cost pressures, feeding through to higher goods prices.
'Headcount'
"Manufacturing is one of the few bright spots in the economy and this survey underlines the important role of smaller firms in delivering growth and jobs," said Lucy Armstrong, chairman of the CBI's SME Council.
"With domestic orders steadily improving and production rising, firms are increasing their headcount to keep up with demand."
Indeed, according to the CBI survey firms have been adding to the number of people they employ at he fastest rate of growth since April 1995.
Output was lifted by an improvement in domestic orders growth, but those cost pressures have started eating into profit margins.
That has put up both domestic and export prices of manufactured goods, and an even sharper increase is expected in the coming quarter.