Real Madrid top football rich list for sixth year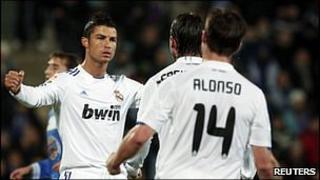 Real Madrid have topped the league table of the world's 20 richest football clubs for the sixth straight year, according to Deloitte.
Its Football Money League, based on season 2009-10, also said the combined revenues of the 20 clubs had passed 4bn euros (£3.8bn) for the first time.
Real's arch-rivals Barcelona retained second spot in the list, ahead of Manchester United who remain third.
Manchester City were the biggest climbers, up from 20th to 11th place.
Arsenal, Chelsea and Liverpool were fifth, sixth and eighth respectively.
'Corporate partners'
Seven of the top 20 in Deloitte's table were from England, the other three being Manchester City (11th), Tottenham Hotspur (12th), and Aston Villa (20th).
All the 20 clubs represented are from the "big five" European leagues, with Germany contributing four clubs, Italy four, Spain three and France two.
In a further sign of a financial hierarchy at the top of the European game, the same 10 clubs populated the top 10 places in the Money League for the second successive year.
And top six ranking places are identical to last year. Meanwhile, six of the top 10 have been in the money league top 10 in each of the last 10 years.
The authors said that Real may now be about to emulate the eight years spent by Manchester United at the top of the rich list, from the first edition in 1996-97, through to 2003-04.
They also said that they had expected to see the full impact of the global economic downturn on clubs during the 2009-10 season.
"We continued to assert that the game's top clubs would be well placed to meet these challenges given their large and loyal supporter bases, ability to drive broadcast audiences and continuing attraction to corporate partners," the report says.
"This was more than borne out by clubs' revenue performance in 2009-10."
Deloitte also says that the established large and loyal supporter bases and historic on-pitch success has "continued to underpin the brand strength" of football's top clubs.
Match-day boost
Real retained top position despite a disappointing season, coming second in La Liga again and being knocked out of the Champions League at the Round of 16 stage by Lyon.
Yet the club was boosted by increased revenues from its three income streams of match day monies, broadcasting and commercial.
Match day revenues grew by 27%, partly because Real hosted the Champions League final in 2010 at their Santiago Bernabeu stadium.
"In the coming years, particularly as UEFA's financial fair play rules take effect, Real Madrid's revenue prowess should, in theory, translate into a competitive advantage on the pitch," said the Deloitte report's editor, Dan Jones.
These Uefa rules are designed to force clubs in European competition to spend only what they earn.
"The much discussed implementation of UEFA's... regulations from 2013-14 will not impact on clubs' revenue generation, with the key principle underlying the regulations being that clubs do not spend more than they earn," Mr Jones adds.
"Indeed, the regulations should help encourage clubs to identify and realise sustainable increased revenues."
'Consolidated'
Real's arch-rivals Barcelona had a successful season, again winning La Liga and being crowned Fifa World Club champions.
Manchester United had to be content with picking up the League Cup, as Chelsea secured a Premier League and FA Cup double.
"Despite the strengthening of sterling against the euro between 2008-09 and 2009-10, Barcelona have consolidated their second-placed position in the football money league, increasing their lead over Manchester United from 38.9m euros in 2008-09 to 48.3m euros," the report says.
The Deloitte review does not include the cost of transfer fees or player wages, or VAT and other sales taxes, and concentrates solely on day-to-day income from football business.
Income includes money from ticket sales, sponsorship, merchandising and other commercial revenues, television monies, corporate hospitality and non-match day stadium use, such as for conferences.