CBI chief says no to bank break-up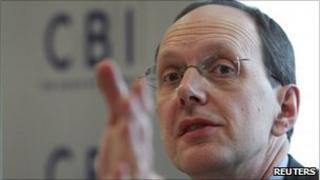 Breaking up UK banks would be a "mistake", the new head of the CBI has told the commission looking at the future structure of the industry.
John Cridland told the Independent Commission on Banking (ICB), that such a move could stop the banks from creating growth.
The ICB is considering a major overhaul of the country's banks.
ICB head Sir John Vickers has said splitting off the banks' investment bank operations is one possibility.
The theory is that such a move would leave the investment banking arms free to fail if a new banking crisis developed while the High Street operations would still be protected.
Mr Cridland stressed that the UK risked damaging its position as a global financial centre if it took this move, as other countries may not follow suit.
He said in the CBI's submission to the ICB: "Breaking up banks would be a mistake; we need a strong banking system to help support the economy and growth."
Reforms
He pointed out that financial services in the UK accounted for about 10% of total economic output.
The CBI's view is that reforms should focus on increasing regulation and the amount of capital they must hold rather than a full-scale restructuring.
The business lobby group also said that large banks could offer better value through economies of scale that can be passed on to businesses.
But it did add that the market should be opened up to more competition, and that lending to businesses needed to improve.
Sir John Vickers has previously stressed that no final decisions have yet been made by his Independent Commission on Banking.
The ICB has until September 2011 to make its recommendations to the government.