India's economic growth under 'threat' from inflation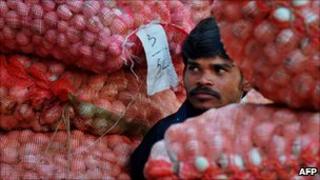 India's prime minister has warned that the country's rapid economic growth is under "serious threat" from inflation.
Manmohan Singh said getting inflation under control was a matter of urgency, raising the prospect of an eighth interest rate rise in under 12 months.
Emerging markets like India, where GDP growth is running at 8.5%, are helping to drive global economic recovery.
But Mr Singh said India's inflation rate of 8.4% - and food price inflation of 17% - was unsustainable.
"Inflation poses a serious threat to the growth momentum. Whatever be the cause, the fact remains that inflation is something which needs to be tackled with great urgency," he said.
Analysts believe that surging food and oil prices mean that India's central bank may have to raise interest rates before its next policy meeting, which is scheduled for 17 March.
India's stock market has fallen this year on fears that high inflation will scare off foreign investors.
Wages in India are also rising as workers demand pay that keeps up with the cost of living.