European Central Bank 'closely monitoring' inflation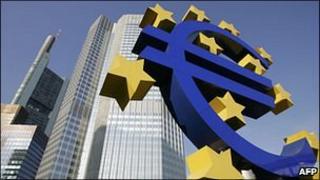 The European Central Bank (ECB) has kept interest rates in the eurozone unchanged at a record low 1%, despite fears of increasing inflation.
Speaking at a press conference after the rate decision, the ECB president Jean-Claude Trichet claimed that inflation pressures remained contained.
He added that "very close monitoring is warranted".
His surprisingly dovish comments sent the euro significantly lower against other currencies.
Against the dollar, the euro was down 1.2% at $1.364, while sterling rose 0.9% against the single currency to 1.183 euros.
Strong data
The decision to hold interest rates for the 21st month in a row comes after inflation increased to 2.4% in January - a 15-month high.
It also follows strong economic data, including an encouraging eurozone manufacturing survey.
On Monday, the Markit Purchasing Managers' Index (PMI) for the eurozone said that the region's factory output rose slightly to 57.3 in January from 57.1 in December.
Any value above 50 indicates expansion in the manufacturing sector.
The equivalent survey in the US - the ISM survey - said that factory activity rose to a higher-than-expected level of 60.8 in January, up from 58.5 in December.
'Tilted to the downside'
Mr Trichet said the ECB board's decision not to raise interest rates was unanimous.
Although inflation expectations remain "well anchored", he warned that the inflation rate could temporarily increase further, and is likely to stay slightly above 2% most of 2011, before moderating again in 2012.
Rising energy and commodity prices were the immediate cause, but the ECB president warned that rising indirect taxes - such as VAT - and price pressures in production chains could further heighten price rises.
On the wider eurozone economy, he said that recent data continues to confirm a "positive underlying momentum", noting the strong export recovery and rising private sector confidence.
Risks were still "slightly tilted to the downside", he said while "uncertainty remains elevated".
Mr Trichet noted in particular the risks posed by the financial sector, rising commodity prices, trade protectionism and a potential disorderly correction of global trade imbalances.