Holiday Atol protection set to be expanded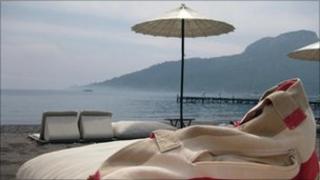 More holidaymakers are set to be protected from losses when a travel company goes bust, the government has confirmed.
Package holidays are already covered by the Air Travel Organisers' Licensing (Atol) scheme, ensuring refunds for customers whose tour operator folds.
The government said that, by the end of the year, flights and accommodation in the same booking will also be covered.
Six million more holidays could be protected, but prices could rise.
Some large operators and the travel agents' trade body have said the proposals do not go far enough because they exclude flight-only deals.
Refunds
The current scheme, run by the Civil Aviation Authority (CAA), only offers protection for those who buy package deals and some flights if their tour operator or travel agent goes bust.
In the last 12 months, 43,637 holidaymakers were flown back from their holiday destinations and 132,820 received refunds for all of their holiday costs when their tour operator went bust.
The scheme began in the early 1970s and was last overhauled in 1995. It has now become commonplace for holidaymakers to book online, and many have found they were not protected even though it felt as though they had bought all the elements of the holiday from the same provider as a package for one price.
Under the proposed new rules:
Protection would be extended to "flight plus" holidays. These are trips including a flight where the various elements were bought within a specified short time period
Holiday companies would make it clearer if they were working outside Atol protection
Paperwork for holidaymakers would be standardised, including a recognisable certificate for Atol-protected holidays
As with now, the proposed new rules would not cover do-it-yourself holidays. For example, somebody who buys a flight from an airline and then books accommodation directly with a hotel would not be Atol covered.
There would be no protection, even if the hotelier is recommended by the airline and a link to its website is provided on the airline's website.
The government said the wish was for the rules to be in place by the end of the year, as the economic climate remained tough for travel businesses.
"Insolvencies in recent years have shown us how important it is that customers are able to buy protected holidays, but recent court cases have only served to highlight the fact that the scheme is in need of reform," said Aviation Minister Theresa Villiers, referring to a recent dispute over an Atol licence between the CAA and Travel Republic.
"These changes will remove much of the confusion surrounding Atol, while ensuring operators who offer such holidays provide customers with the financial protection they expect."
Costs
However, the changes remain subject to consultation, so the current rules will remain during this summer's holiday getaway.
Travellers who buy holidays with a credit card do have some protection from their card provider if things go wrong.
Businesses pay £2.50 into a fund for each booking that covers the cost of refunds and repatriations. Those operators who are Atol protected also have extra insurance costs.
As a result, any extension of the scheme could mean slightly higher prices for customers, said Bob Atkinson from Travelsupermarket.com.
"It will come at a cost," he said.
Owing to the number of high-profile travel operators collapsing in recent times, the fund that pays out for repatriation flights and refunds currently has a £42m deficit, covered by the government.
The government hopes the extension of the scheme will start to plug the financial hole.
Reaction
The proposals have received a mixed reaction from the industry, with some criticism from those who already hold Atol licences.
Mr Atkinson, of Travelsupermarket, said that some holiday companies would be forced to "take a long, hard look at how they operate".
However, others have said that the planned extra protection failed to go far enough, particularly as it did not cover flight-only deals, or hotel deals recommended on an airline's website.
"This is not the complete solution to consumer protection," said a spokesman for Thomas Cook.
"We hope the decision is just a stepping stone and that in future the scope of the Atol system is widened to include airlines. Only when this is introduced will holidaymakers be able to have total peace of mind that their money is fully protected."
Mark Tanzer, chief executive of Abta, said: "Financial protection should be comprehensive and transparent, otherwise it leads to real confusion and consumer detriment.
"British consumers and our members deserve better than the unfair and unclear structures that we have suffered in recent years.
"While the government's proposals go some way to addressing the problem, we are disappointed airlines and online click-through sales have been excluded, as these will create competitive imbalance and leave passengers exposed."