UK service sector bounces back but so does inflation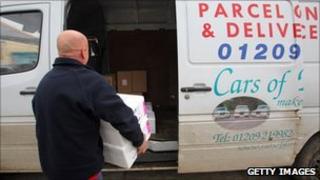 The latest service sector survey shows activity in the service sector at an eight-month high - but a record jump in inflation.
According to the Markit/CIPS Purchasing Managers' Index (PMI) services bounced back after shrinking for the first time in 20 months in December.
Earlier in the week, other surveys suggested stronger activity in both the construction and manufacturing sectors.
Rising growth and inflation could add to the case for higher interest rates.
The headline services PMI activity index rose to 54.5 in January from 49.7 in December, well above the 51.4 reading expected.
Its input cost index rose to 65.8 from 60.5, the biggest jump since the survey began in 1996.
Earlier this week, a survey on manufacturing showed that sector growing at its fastest pace since 1992.
Global inflation is rising sharply, particularly in raw materials and food.
Strong economic activity could build on that, as it often fuels higher prices as demand rises.
Interest rates
Fears of higher inflation have led two members of the nine-strong Bank of England Monetary Policy Committee (MPC) to call for a rise in interest rates from their current 0.5%.
The MPC holds its regular monthly meeting next week.
Although the most recent official figures for gross domestic product (GDP) showed it shrank in the last quarter of last year by 0.5%, activity in the latter part of 2009 was depressed by severe disruption from heavy snow falls, making it difficult to gauge a true comparison with the previous year.
Markit said that some of the bounce back in the service sector was due to the return of business displaced by December's snow.
Its chief economist, Chris Williamson, said the reading did not necessarily mean robust growth was established: "The underlying trend remains one of only very modest growth, and well down on the strong rate seen in the first half of last year."