Santander profits hit by bad loans in Spain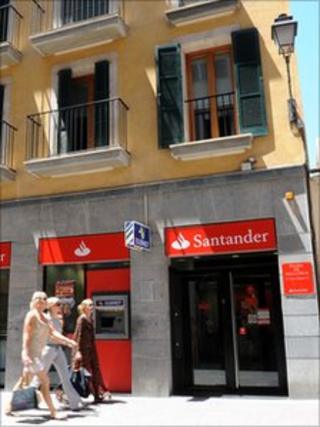 Spanish bank group Santander saw full-year profits fall 8.5% in 2010 because of bad debts in its home market.
Net profits of 8.2bn euros ($11.3bn, £7bn) were hit by a 472m-euro provision for bad loans, in the wake of a collapsed property market and a severe recession with 20% unemployment.
But the group's profits would have been worse, were it not for a strong showing at its UK and Brazil units.
The group's British arm reported £2.3bn profits, up 11% on 2009.
It is believed that the Madrid-based bank intends to sell off a 20% stake in its UK business in the next six months via a flotation on the London Stock Exchange, expected to raise more than £3bn.
Diversification
The firm also saw strong business in Latin America, with full-year profits up 31% in Brazil, 38% in Mexico and 21% in Chile, according to its full-year statement.
This was in sharp contrast with Santander's core continental Europe business, where profits dived 23%.
At 12.8bn euros, the group now makes almost as much operating income in Latin America as it does in Europe (including the UK) - the product of a long-term strategy to diversify out of its home market.
The proportion of non-performing loans in its continental Europe business rose to 4.3% in 2010, up from 3.6% a year earlier.
In the UK - where property prices have fallen much less compared with Spain - the proportion remained steady at less than 1.8%.
The worsening figures in Spain partly reflect stricter accounting standards instituted by the Spanish central bank.
Sub-par
Much of the poor performance was due to bad third-quarter results, which were published in October.
The newly-released full-year results showed that profitability improved, but remained sub-par in the last three months of the year.
Fourth-quarter net profits of 2.1bn euros were down 5% on the same period in 2009.
The profit and net income figures were largely in line with market expectations, according to analyst polls conducted by Reuters.
Shares in the bank closed 1.7% lower on the Madrid stock exchange.