Egypt unrest: Tui Travel counts the cost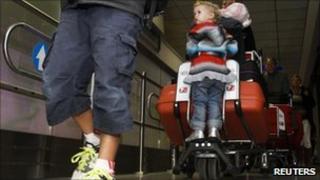 Travel group Tui says the unrest in Tunisia and Egypt could cost it up to £30m.
It said it was monitoring the situation carefully and said customers were rebooking alternative holidays.
Tui said it had now cancelled all holidays to Egypt except those leaving from the UK.
The comments came as it announced a pre-tax loss for the end of 2010 of £134m - smaller than the £166m it lost during the same period a year earlier.
The company said that if it was not able to operate any more winter holidays to Egypt apart from the UK, the cost would be £20m.
If the UK government changes its advice, and warns against holiday travel to Red Sea resorts as other governments have done, the additional cost would be £5m, Tui said.
In addition, the cost of cancelling holidays to Tunisia and bringing travellers back from there would be £5m.
Overall, the company said it had been a good start to the year and bookings were good.
"We remain cautious, however, given the current economic and geopolitical uncertainty."
It said its losses had reduced between October and December - its first quarter - because of improved performances in the UK, the Nordic region and Canada which offset the disruption caused by the severe weather in December.