Sony sees profits fall while Sharp recovers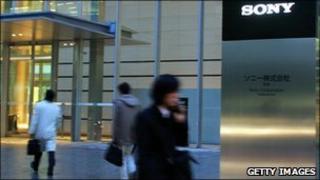 Japanese electronics giant Sony has unveiled a drop in profits due to price competition in the TV market.
The firm made a net income of 83bn yen ($1bn; £627m) down by 7.4% from 90bn yen in the same quarter in 2009.
Sony cut its full-year revenue forecast to 7.2 trillion yen from 7.4tn yen, citing expectations of poor sales in its consumer division.
By contrast, competitor Sharp reported higher profits after strong sales of its LCD TVs at home and in China.
"In this strong-yen environment we see this as a pretty healthy result," said Sony's chief financial officer, Masaru Kato, commenting on his company's results.
Sony is one of the world's largest television manufacturers and faces strong competition in the sector from Samsung Electronics, LG Electronics and Panasonic.
Back in black
Meanwhile, two other Japanese electronics manufacturers reported a continuing return to healthy profits in the latest quarter, despite the strong yen.
Sharp - which made a massive loss in 2009, reported profits of 7.1bn yen for the last three months.
Sales were boosted by a rush to buy its TVs - perhaps at the expense of Sony.
The company benefited from last-minute purchases ahead of the expiry of a government subsidy for "eco-point" energy efficient electronic goods.
Although an improvement on the previous quarter, the profit figure disappointed high expectations.
Despite reaffirming its seemingly aggressive full-year profits target, Sharp's share price had fallen 3.1% by the close of trading on Thursday.
Hitachi meanwhile reported a tripling of profits after the close of trading, and raised its full-year profit target 15% to 230bn yen.
The manufacturing conglomerate embarked on a painful round of cost-cutting, following a record loss for the year to March 2009, that has enabled it to fatten profit margins.
The firm - which produces electronics parts, car parts, nuclear generators and white goods among others - said demand in China had been particularly strong.