Unilever profits up strongly despite weak confidence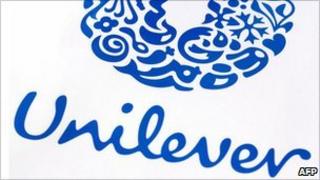 Consumer goods giant Unilever increased full year profits by 18% to 6.1bn euros ($8.4bn, £5.2bn).
The company makes a vast range of well-known consumer goods, including Knorr soups, Cif cleaning products and Ben and Jerry's ice cream.
The company said the rise came despite tough trading conditions, weak consumer confidence and higher commodity prices.
Commodity costs for vegetable oils, tea and milk have risen sharply over the past year.
Unilever is one of the top three food and consumer goods company in the world, alongside Colgate Palmolive and Proctor and Gamble.
It now has more than 50% of its business in emerging markets, the fastest growing in the world.
Its chief executive, Paul Polman, told the BBC this was probably the highest percentage of any consumer goods company.
He said the company's growth was strong: "Volume growth is the highest we've seen in 30 years. Its coming from across the world. We have 60% of our categories actually growing share."