Calls for prosecutions over Kabul Bank's near collapse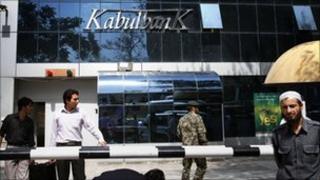 The governor of Afghanistan's central bank says those involved in the near collapse of the country's largest private bank should face prosecution.
Abdul Qadir Fitrat told the BBC that President Hamid Karzai's brother Mahmoud, a shareholder of Kabul Bank, had repaid $4.8m loaned to him.
But he said that the vice-president's brother still owed "many millions".
Investigators say that the bank - bailed out in September - made millions in inappropriate loans.
When the scandal broke, thousands of Afghans rushed to withdraw their savings from Kabul Bank.
It handles most of the government payroll - including salaries for policemen and teachers.
The central bank sacked Kabul Bank's top executives and took control of its finances in September.
"Most of the loans were made to shareholders in a very improper way, under fictitious names. And we in the last four months succeeded in finding $315m in loans that were issued in an inappropriate way," Mr Fitrat told the BBC.
Along with other assets, investigators have identified a total of $436m owed to the bank. The governor says he believes that more than 90% of the money will be recovered.
The near collapse of Kabul Bank caused a financial crisis that has become a political one.
The governor has submitted a number of cases for criminal prosecution to the attorney general.
US officials, who have heavily criticised corruption in President Karzai's government, have remained tight-lipped about the scandal, although US treasury officials have been investigating the affairs of the troubled bank.
It has also been alleged that several current and former cabinet ministers received large loans from the institution, many of which remain outstanding.
But the governor refused to be drawn on the allegations. "We have not received any documents on that. We heard these allegations, they have not yet been substantiated," he said.
He said that Mahmoud Karzai and Haseen Fahim - the brother of the vice-president - should also be investigated as bank shareholders.
"Although they were not in the management, their violations may not be as much as former executives, but I believe whoever committed violations must be prosecuted," he said.
Mr Fitrat said the government had now taken ownership of 22 luxury villas in Dubai, which were bought with loans from the bank. Mahmoud Karzai made use of one.
The central bank will either sell the properties or rent them.