Ministry of Defence 'overlooks' small businesses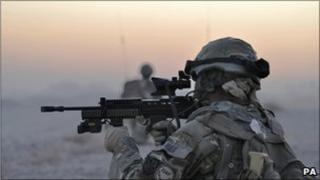 Small businesses face a "significant disadvantage" when bidding for contracts from the Ministry of Defence (MoD), a report has said.
The Federation of Small Businesses (FSB) is calling on the MoD to overhaul how it engages with small firms.
Some 9,000 small businesses operate in the defence sector. But 90% of defence exports are won by the 20 largest UK companies, the FSB said.
The MoD said small and medium-sized enterprises were vital to its business.
"One of our key aims is to improve SME access to public contracts. We welcome the FSB contribution to the debate and will consider it thoroughly as we draw together our White Paper later in the year," said Peter Luff, Minister for Defence Equipment, Support and Technology.
In its report, the FSB argues that if the MoD engaged better with small firms to make procurement opportunities fairer, it could both help save the taxpayer money and provide a better level of service for Armed Forces personnel.
The federation's research suggested that:
nearly three-quarters of small businesses rarely or never bid for government work
more than half of small businesses feel that the process of tendering for government contracts requires more time and resource than their business can allow or afford
on average, small businesses find the private sector easier to sell to than the public sector.
"There has long been an issue for small businesses when it comes to accessing public sector contracts, and the defence sector is even harder to get into," the FSB said.
This is because the sector is unique as it is dominated by the government through a variety of roles such as regulator, owner, controlling shareholder, funder of research and development, as well as principal customer.