Vodafone appoints Gerard Kleisterlee as new chairman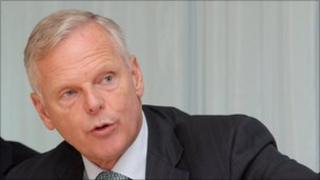 Mobile phone giant Vodafone has chosen the boss of electronics firm Philips as its new chairman.
Gerard Kleisterlee, 64, the president and chief executive at Philips, will take over from Sir John Bond, who is leaving the post in July.
Mr Kleisterlee has been with Philips for 37 years, with nearly 10 years of that in the top position.
Sir John, 69, was the target of a shareholder protest at the last AGM over the firm's takeover strategy.
More than 6% of Vodafone shareholders voted against his reappointment at the annual meeting because they believed deals had damaged the value of the company and its share price.
Sir John welcomed his successor, saying: "I am delighted to announce that Gerard Kleisterlee, a highly successful international businessman whose track record at Philips speaks for itself, will be succeeding me as chairman after my six years on the board of Vodafone."
Challenges facing the company and its new chairman include fierce competition, particularly in emerging markets, and a tightening regulatory regime.
Mr Kleisterlee has spent time in Asia, and is credited with transforming Philips after taking over as chief executive in 2001.
ING analyst John Davies said: "He [Mr Kleisterlee] did a lot of deals at Philips. He simplified and redirected that business which perhaps is what people are hoping he'll be doing over at Vodafone."