Spanish bank BBVA reports higher profits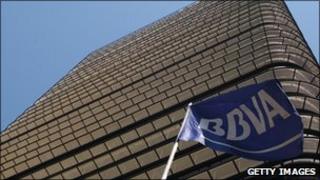 BBVA, the second largest bank in Spain, has reported a 9.4% rise in full-year net profit to 4.6bn euros ($6.3bn; £3.9bn).
Spanish banks have been struggling with the consequences of the credit crisis, with Spain's economy suffering from high unemployment and falling house prices.
BBVA does still have exposure to bad housing sector loans on its books.
However, it says it now has "limited exposure to developers".
BBVA has been trying to diversify away from the troubled Spanish economy.
The firm recently moved into the Turkish banking market when it acquired a stake of just under 25% in Garanti Bank.
Latin America
BBVA has been able to offset weaker European results with strong growth in South America and Mexico.
"Nearly 50% of our revenues come from emerging markets," said BBVA chief executive Angel Cano.
In South America, the bank's net profit was 1.27bn euros, up from 1.17bn euros in 2009.
BBVA also reported a fourth-quarter net income of 1bn euros down from 63m euros in the same quarter of 2009, although the income for that quarter was affected by a large one-off charge.
The bank's fourth quarter net income is slightly down on the 1.25bn euros it made in the third quarter.