US shares at highest level since 2008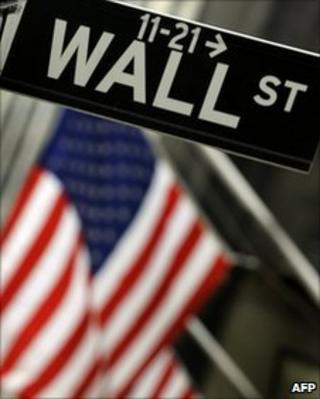 US shares closed at their highest level in more than two years on Tuesday, as upbeat corporate earnings and strong US manufacturing data added to confidence in the US recovery.
Wall Street's Dow Jones index closed above 12,000 points on Tuesday for the first time since mid-2008.
And the Standard & Poor's 500 index - a broader measure of US shares - closed at its highest level since August 2008.
But unemployment and house market woes continue to hang over the US economy.
US shares have climbed rapidly since March 2009, when the Dow Jones index stood at 6,547 points - its lowest level in twelve years.
Observers say that surging corporate profits and resilient of consumer spending had played a part, while intervention by the US central bank, the Federal Reserve, to buy bonds, had made stocks a more appealing investment.
These factors had helped to ease concerns about possible economic implications from political turmoil in Egypt, and the continuing rise in the price of oil, with Brent crude going above $102 (£63), analysts said.
'Area of strength'
Earlier this week, official figures suggested consumer spending in the US grew at its fastest pace in three years during 2010. Spending grew by 3.5% from 2009 the Commerce Department said, the best showing since a 5.2% rise in 2007 - before the country went into recession.
And on Tuesday a survey from the Institute for Supply Management (ISM) found factory output had increased at its fastest pace in seven years last month.
"Manufacturing seems to clearly be an area of strength, and it is the combination of manufacturing picking up and the consumer picking up, that's most of the economy." said Eric Kuby, chief investment officer at North Star Investment Management in Chicago.
Meanwhile, companies including Pfizer and United Parcel Service helped the market rally on Tuesday, seeing large jumps in their share price on better-than-expected quarterly profits.
The Dow Jones index closed up 148.2 points, 1.3% at 12,040.2, while the S&P 500 index added 1.7% percent to 1,307.6 points and the tech-heavy Nasdaq index added 1.9% at 2,751.2 points.
If Americans began to believe in the stock market again, it could accelerate the economic recovery, said David Kelly, chief market strategist at JP Morgan Funds.
"The lack of confidence has acted as a sedative across the economy," he added.
"The Dow at 12,000 could boost the psychology of the American investor and be a more powerful stimulant than anything else in driving the next stage of this bull market."
Investors who saw their stock portfolios increasing in value would be more likely to spend cash, which in turn would boost the economy, he said.
Last week, figures showed that US economic growth accelerated in the last three months of 2010 to an annualised rate of 3.2%, up from a rate of 2.6% in the previous quarter.
While the US economy is expanding again, there are concerns about the jobs market, with the unemployment rate at 9.4%.
And some have expressed concern over whether gains in consumer demand will be enough to offset further cutbacks in government spending and the weak housing market.