Premier League clubs spend record £225m on transfers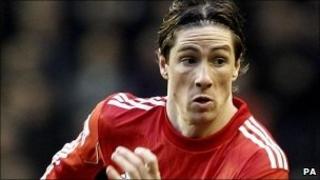 Premier League clubs spent a record £225m in the January transfer window, a report by accountants Deloitte says.
The period included Fernando Torres' estimated £50m move from Liverpool to Chelsea - a British transfer record - and Liverpool's signing of Andy Carroll for £35m from Newcastle.
The previous record was £175m spent in January 2008, Deloitte said.
About 80% of the spending was done by only four clubs - Chelsea, Liverpool, Aston Villa and Manchester City.
The total amount spent marked a sharp rise from the £30m spent in January last year.
Dan Jones, partner in the sports business group at Deloitte, said that while Premier League club revenues had never been higher, he was still surprised that the figure topped £200m.
But he said that this had been "a particularly polarised window, with only a few clubs flexing their financial muscles, on what was a deafening final day of an otherwise quiet window".
Spending between Premier League clubs accounted for just over half (£115m) of the total, followed by spending with overseas clubs (£105m) and with Football League clubs (£5m).
Clubs in England's top flight also spent far more overall in January than those in other European leagues, Deloitte said.
The January transfer window, which has been running since the 2002-03 season, opens on 1 January and closes at 2300 GMT on 31 January.
A number of deals completed on deadline day helped boost the overall spend.
In addition to signing Andy Carroll, Liverpool also splashed out £22.7m on Ajax's Uruguayan striker Luis Suarez.
Chelsea also brought in Benfica defender David Luiz for a reported fee of £21.3m.
Other big-money transfers which took place before Monday included Darren Bent's £18m move from Sunderland to Aston Villa, and Edin Dzeko's transfer from Wolfsburg to Manchester City for £27m.