Egypt unrest leads to re-routing of container ships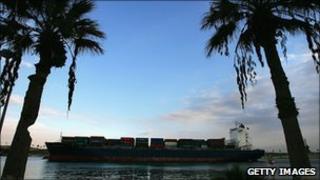 The unrest in Egypt has led to some container ships being re-routed as vessels look to bypass Egyptian ports and stop at other countries to refuel.
South Korea's Hanjin Shipping said it was re-routing some of its ships as its operations at Port Said and Alexandria were affected by a lack of staff.
On Monday, DP World and Danish shipping firm AP Moller-Maersk both suspended their Egyptian port terminal operations because of the unrest.
The Suez Canal remains open.
The Canal Authority said movement of traffic through the canal was unaffected.
"The movement today is normal. The number of ships passing through has increased to 65 today from 40 yesterday," said Ahmed Manakhi, a member of the canal's board.
Meanwhile, the credit rating agency Standard and Poor's lowered its long-term foreign currency sovereign ratings on Egypt to BB from BB+.
This followed Monday's move from Moody's to downgrade its debt rating on the country, while Fitch has also cut its rating on Egypt.
Alternative arrangements
"Our operation is affected as Port Said and Alexandria are either partially open or entirely not operating due to a lack of labour and IT systems," Hanjin's president Young Min Kim told the Reuters news agency in an e-mail.
"We are arranging to discharge some trans-shipment boxes at the next port for the time being."
He did not say how many ships were affected or where they were being re-routed to.
Although Suez has been one of the cities where anti-government protests have taken place, they have not spread to the canal, which is still functioning as normal.
Other shipping companies said their canal operations had not been affected.
"So far none of our ships have experienced any problems. In fact, one of them went through the Suez Canal a few days ago after the start of the unrest in Egypt without any issues," said Khalid Hashim from Thailand's Precious Shipping.
And while Maersk said that its operations were being affected and some of its offices closed, the group denied that it was pulling out of Egypt.
"We have not moved staff out of Egypt and Maersk Line has not imposed any restrictions on cargo to/from Egypt," it said in a statement.
$120 Brent?
Despite reassurances from the Suez Canal Authority, on Monday the price of Brent crude oil topped $100 a barrel for the first time in two years on concerns that the canal might close, disrupting supplies.
"The major concern [for investors] right now is what will happen with the Suez Canal. This is because 5% of global oil trade flows through the canal on a daily basis," Jean Paul Pigat from Business Monitor International told the BBC.
"In a worst case scenario where Egyptian authorities are forced to close down the canal, absolutely this is going to add considerable upside pressure to oil prices.
"Brent crude is trading at about $100 a barrel right now. That could easily go up to $120 if the canal closes."
At the close of trading in London on Tuesday, Brent crude was trading above $101 a barrel.